Rows of folding study chairs wherever there is space — in halls, on a stage, under trees — heads buried in books, a stall serving meals for Rs 5, and a blanket of silence. This is the scene at the City Central Library in Hyderabad's Chikkadpally where hundreds of aspirants prepare for the UPSC, Telangana Public Service Commission (TPSC), and other entrance exams.
In Telangana, which has a high youth unemployment rate — 15.1% compared to the national average of 10%, as per the Periodic Labour Force Survey of 2022-'23  — these job aspirants have become a major electoral agenda before the state votes in the Assembly elections on November 30 as the Congress and the BJP take on the ruling Bharat Rashtra Samithi (BRS) over an alleged lack of jobs while simultaneously levelling corruption allegations against Chief Minister K Chandrashekar Rao, or KCR, and his family.

The young aspirants figure prominently in the Congress and BJP manifestos that were released on Friday and Saturday. While the Congress has laid down a "job calendar", promising a "special department recruitment mission" to fill two lakh vacancies within a year of coming to power, the BJP has said it will hold state recruitment exams "in a transparent and timebound manner" in the lines of UPSC. Both parties accuse the BRS of failing to live up to the Telangana statehood movement's clarion call "neelu, nidhulu, niyamakalu (water, funds, and jobs)". They question the ruling party's claim of creating one lakh jobs during its time in power.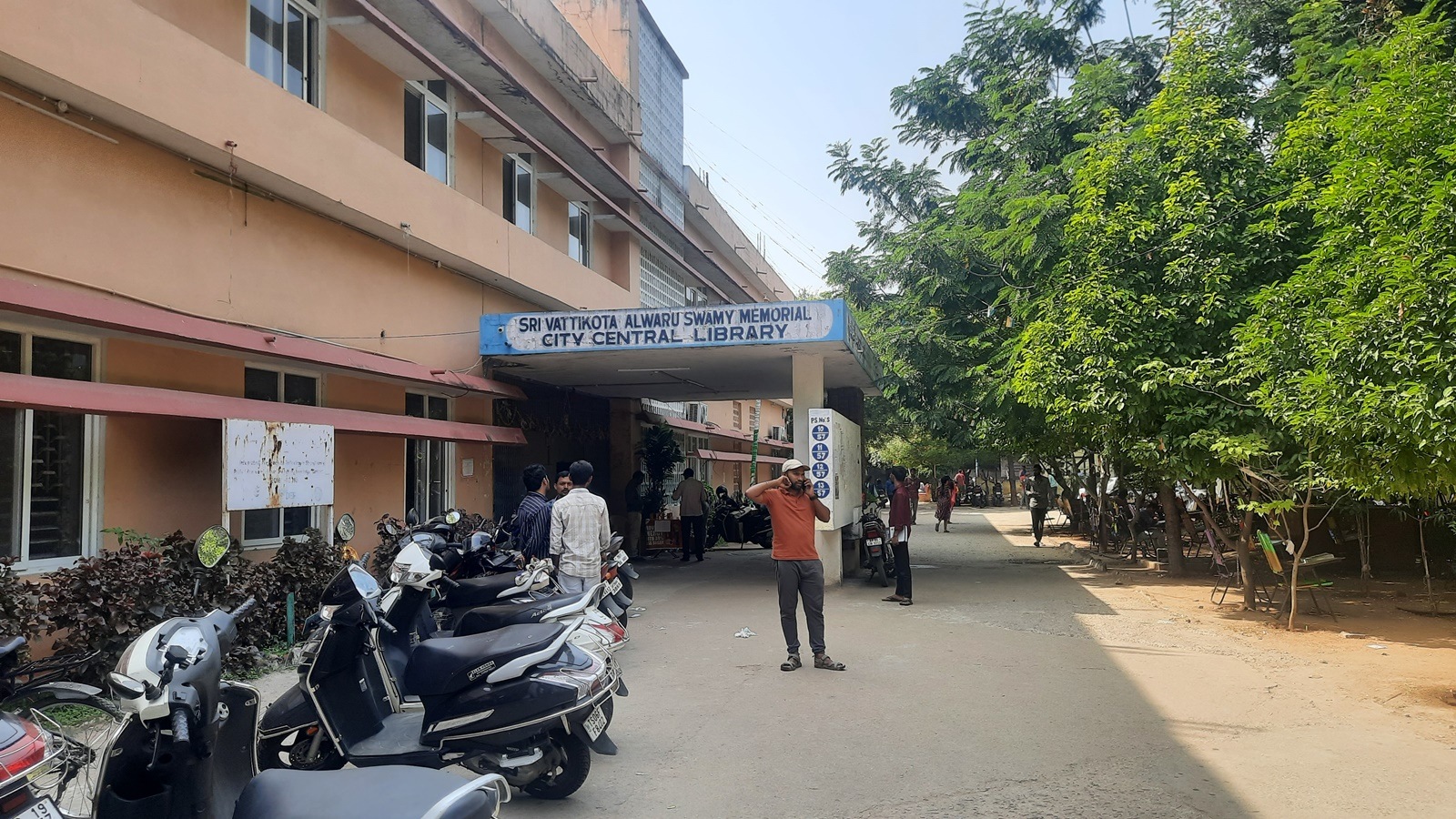 The City Central Library in Hyderabad's Chikkadpally where students prepare for government recruitment exams. (Express photo)
Inside the central library, where thousands of young men and women who need these jobs are trying to realise these dreams, there seems to be a "sense of low morale" as a 25-year-old student puts it. "The library used to see 2,000 people in a day. Now, the number has decreased," he says.
Suresh, 28, who secured the post of a constable in a recruitment list announced in October is hoping to secure a better post. He says the low morale of aspirants like him is linked to the alleged irregularities in the conduct of Group 1 exams and the delay in the Group 2 exam.

The Group-1 preliminary exams were held twice (in October 2022 and this June) but were cancelled both times. The first time it was cancelled because the question paper got leaked. According to the Special Investigation Team (SIT) probing the matter, TSPSC employees were behind the leak and had access to 15 other question papers of various exams conducted by the commission since 2022. The second time, the Telangana High Court ordered the exams to be conducted again after hearing a petition filed by three candidates, backed by the Congress's student wing, who alleged violations in the conduct of the examination. The Group 2 exams, scheduled for November 2 and 3, were postponed due to the elections. The death of 23-year-old M Pravalika by suicide in October saw protests in Hyderabad, with demonstrators claiming it was due to the delay of Group-2 exams. The police have said it was due to personal reasons.
'There is no difference' 
Suresh says many have returned to their villages unable to afford the rents in the city (a shared room in the area approximately costs Rs 6,000 per month) with no job in sight. Several students say they have taken loans or pawned jewellery to afford coaching.
Manideep B, 24, who paid Rs 55,000 for coaching, has returned to his home in Jagtial town. He was among the 25,000 aspirants — of the 2.8 lakh who appeared — who qualified for the Group-1 exams in October.  "I wrote the exams twice. My father is a bike mechanic and my mother is a homemaker.  I have moved back and if these delays continue, I have to look for a Plan B."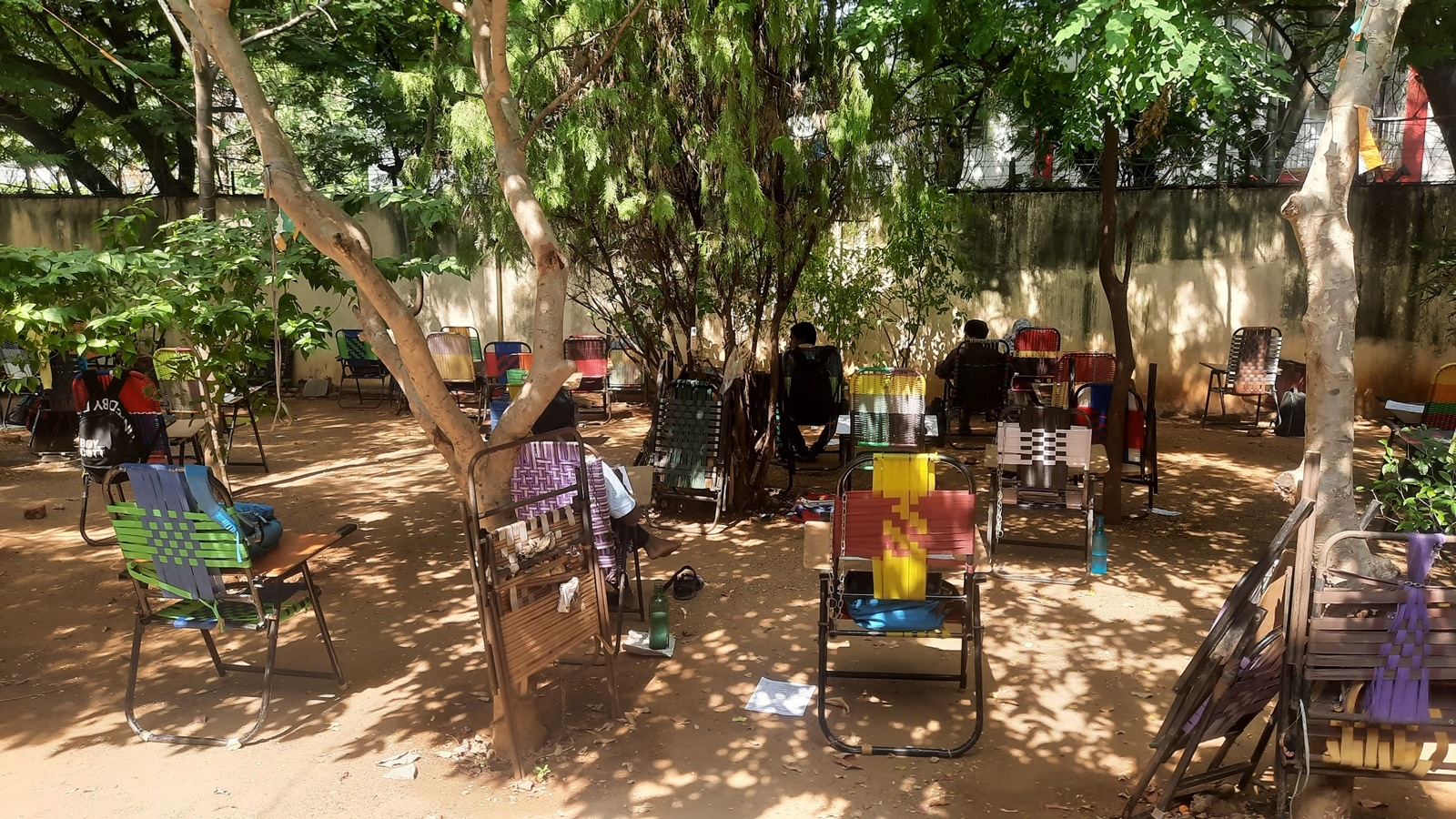 Rows of chairs outside the library in Hyderabad's Chikkadpally. (Express photo)
Kolagani Rakesh, 29, also from Jagtial, is far more direct. "I wish Telangana was not formed at all. There is no difference from before. I have been preparing since 2018. I have a B.Ed (Bachelors in Education) but there are no posts for my subject in my district. The only options remaining are the IT sector, small businesses, or taking up private teaching jobs. But they do not pay well at all. I have a lot of pressure from home. There is no clarity but the goal is to get a government job."
In May, a group of aspirants wrote to President Droupadi Murmu alleging a lack of transparency at the TPSC and demanding a change in its Board.
Back at the library, many talk of a Plan B. Ramesh Yedurakantla, 28, from the Suryapet district says he is planning to set up a dairy farm in his hometown. Citing the Biswal Committee — the panel headed by retired IAS officer C R Biswal in 2021 said 1.9 lakh posts were lying vacant — he asks about the more than 90,000 jobs that KCR announced in the Assembly last year.
Telangana Congress leader Mahesh Goud who was part of the Congress manifesto committee says, "Government recruitments in the BRS government have not crossed 50,000 … Exams of various kinds were postponed 17 times. Thirty-five lakh unemployed youth have registered online for jobs. We will plan skill development initiatives for them."
State IT minister K T Rama Rao, the CM's son, wrote in a post on X on November 13 that he was "100% confident that 1.6 lakh job vacancies" were filled in nine years and shared a breakup of these figures. "Our top priority is to ensure all exams which are postponed or cancelled are conducted at the earliest," he added.