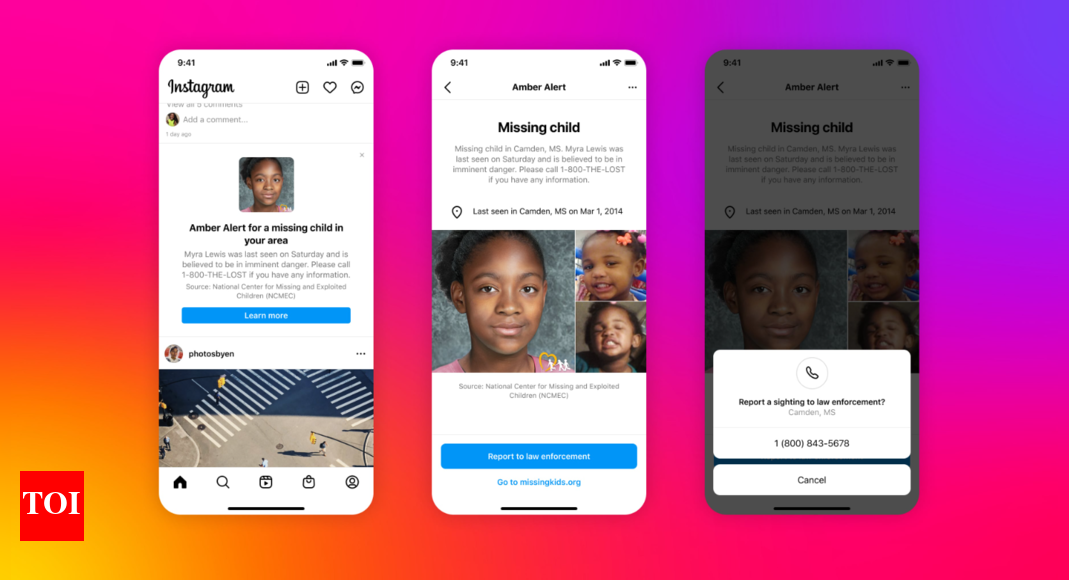 NEW DELHI: Instagram is rolling out a new feature which will help the authorities in locating missing children. The Meta-owned app has introduced a feature called Amber Alerts on the social networking platform. Instagram has developed the feature in association with organizations like the National Center for Missing & Exploited Children (NCMEC) in the US, the International Centre for Missing & Exploited Children, the National Crime Agency in the UK, the Attorney General's Office in Mexico, the Australian Federal Police and more.
With this latest Instagram update, if an Amber Alert is activated by law enforcement and you are in the designated search area, the alert will now appear in your Instagram feed. The alert will include important details about the child such as a photo, description, location of the abduction and any other available information that can be provided. People can also share the alert with friends to further spread the word.
Instagram claims that the Amber alerts are rare and specific to a certain search area. In an official post, the social networking platform said, "In order to know who to show these alerts to, we use a variety of signals, including the city you list on your profile, your IP address and location services (if you have it turned on)."
Instagram has already started rolling out Amber alerts and for now will be available in 25 countries which include Argentina, Australia, Belgium, Bulgaria, Canada, Ecuador, Greece, Guatemala, Ireland, Jamaica, Korea, Lithuania, Luxembourg, Malaysia, Malta, Mexico, the Netherlands, New Zealand, Romania, South Africa, Taiwan, Ukraine, the UK, the United Arab Emirates and the US. The platform plans to expand the feature to other countries soon.
The company launched the Amber alert feature for the first time in 2015 on Facebook.