Not only is he an acclaimed ghazal singer, but Talat Aziz has also proved his mettle as an actor in shows like Saahil and films like Fitoor. Now, he is back with a bang for his "second inning" with OTT shows like Gulmohar and Scam 2003: The Telgi Story, and the upcoming movie Fighter. Known for songs like Zindagi Jab Bhi (Umrao Jaan), Aina Mujhse Mere (Daddy), and Phir Chhidi Raat (Bazaar), the versatile artiste feels that he is able to showcase his skills in a mature way now.
Talking about his journey and much more, the maestro — who recently performed at the centenary celebrations of his alma mater, The Hyderabad Public School, Begumpet — told indianexpress.com about his guru and inspiration, his love for ghazals, the evolution of the genre, and why he is strictly against remixing the same. Read the edited excerpts below:

From acting in TV shows, and films, to now OTT — how would you describe your acting journey?
It's been an interesting journey; films and now OTT platforms. OTT is a different ball game altogether, although the craft of acting is the same it's much more natural. I am enjoying the transition.
Likewise, how about your singing journey?

My passion for theater traces back to my school days at the Hyderabad Public School, Begumpet, and it has subsequently inspired me to pursue acting in my later years. Currently, I am working on a musical play the details of which I cannot reveal at this point in time, but you can be assured it will be a beautiful project which will reflect my deeper sensibilities. Time will reveal all.
Talat Aziz as an actor, singer, or dancer (going by your participation in a dance reality show) — which role do you enjoy more, and which do you think brings out the best in you?
Singing and acting, most definitely.
While you have proved your mettle as an actor, we do not get to see you much. Are you extremely selective about the roles you sign up for?
Yes, I am selective in the roles I accept. They have to be conducive to my temperament.
While ghazals, at one point, were very common in Bollywood films, it is not so much so now. What do you think is the reason for the same?
Well, this question needs to be asked to and answered by filmmakers: Why are they not making films that will have scope for a ghazal which, by the way, can convey a lot in terms of feelings and emotion.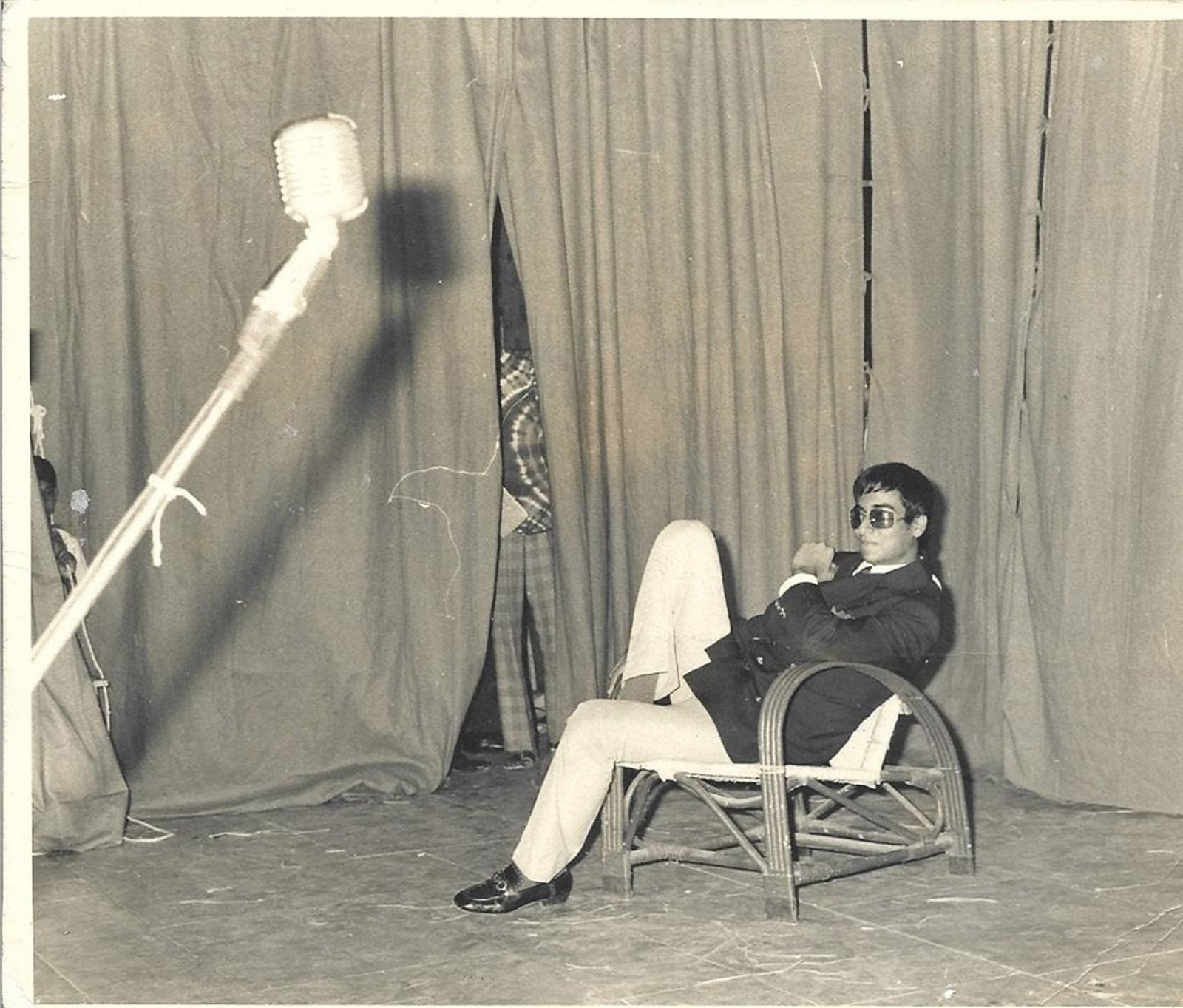 Talat Aziz doing a mono act at the interhouse competition at The Hyderabad Public School, Begumpet.
In a similar vein, how would describe the evolution of ghazals today?
Like everything, ghazals are evolving yet remain true to their ethos and soul.
It would perhaps not be erroneous to call your latest acting ventures your second stint. What kept you away for so long, and what excited you to make a comeback?
Yes, it's my second inning as an actor and I have no regrets in admitting that. The plus point is that I am able to show my talent as an actor in a mature way now.
In the era of remixes, how open would you be to accepting the remixed version of your ghazals. What is your opinion of this trend?
I am against remixing the ghazal format as I feel that this genre is complete in itself and tampering with that will destroy the beauty.
One artiste you admire and look up to/has influenced your work.
The artist who I look up to and has influenced me a lot besides being my Guru is the one and only Mehdi Hasan. I have been listening to him before anyone in India even knew his name. When I was in school, I used to listen to his private recordings in the dressing room of our cricket field, which was at the rear of our campus. Even though I was a fast bowler I loved the slow depth of the art of ghazal singing.
📣 For more lifestyle news, follow us on Instagram | Twitter | Facebook and don't miss out on the latest updates!