Sushmita Sen became a household name after she won the Miss Universe pageant in 1994, and soon after, she made her debut in the movies with Mahesh Bhatt's 1996 film Dastak. In a recent interview, Sushmita recalled her "showdown" with Mahesh on the first day of filming. She shared that instead of giving her an acting coach or conducting workshops, Bhatt chose a rather unique way to teach her the craft of acting.
"I owe him my career because he believed, I don't know why he believed," she told Mid-Day as she recalled that Bhatt had convinced her to do Dastak by saying that she needn't act in another movie again. "He didn't do any workshops with me. There was no acting coach. I was just made to look good and brought for the muhurat shot," she recalled.

Talking about that day, Sushmita said that she had mugged up all the dialogues that were required in that shot, but just before the cameras rolled, Bhatt came in and gave her new set of lines. For Sushmita, who was just 22 at the time and did not have any acting experience, this was daunting. Furthermore, when she stepped out of her trailer, she saw that Mahesh had invited 40 media people for the muhurat shot and this created even more "pressure" on her.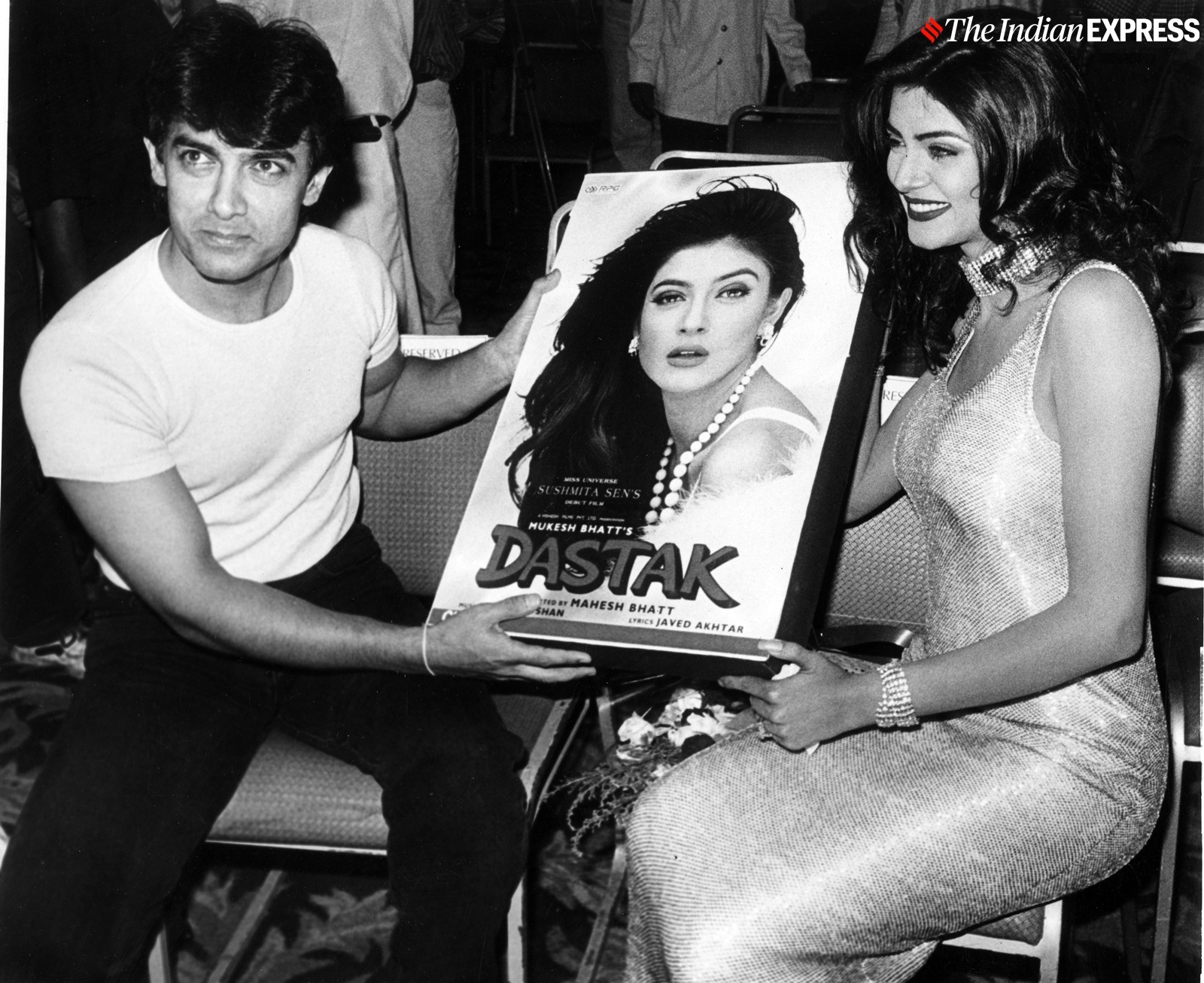 Aamir Khan and Sushmita Sen at an event for Dastak. (Photo: Express Archives)
"I step out of the van and I see 40 media people invited by Bhatt saab. 'Come and see that muhurat shot of Miss Universe'. (There was) pressure and we had a showdown," she recalled. Sushmita said by that point, she had spent two years on "learning how to be a lady" as this was required from her as a pageant winner and now, Bhatt wanted her to let loose and she just couldn't.
"Take after take happens, and there's media standing there," she recalled, and at one point, Bhatt got irritated with her and yelled out, "'Kisko leke aaye Mukesh? Isko kuch nahi aata.' (Who have you brought here Mukesh? She doesn't know anything.) He yelled out like that in front of everyone. So I got angry and I turned around and said, 'I told you Bhatt saab, I won't be able to do this, I'm done, don't insult me in front of people.' I was about to walk off and he holds my hand, and very dramatically, he says 'That is anger, go and show it in the take.'"

Sushmita said that at this point, she realised that the mediapersons were actually junior artists. "I realised that all the media was actually junior artists. There's nobody from the media there and then I gave that shot all angry and everything and Bhatt saab said, 'Cut, okay, let's start the film'," she recalled.
Sushmita said that from then on, Bhatt tried to shoot everything in one take as he knew that she did not have much experience with acting and if she gave more takes, she would become mechanical. Sushmita has been working in the film business for nearly three decades.
Click for more updates and latest Bollywood news along with Entertainment updates. Also get latest news and top headlines from India and around the world at The Indian Express.