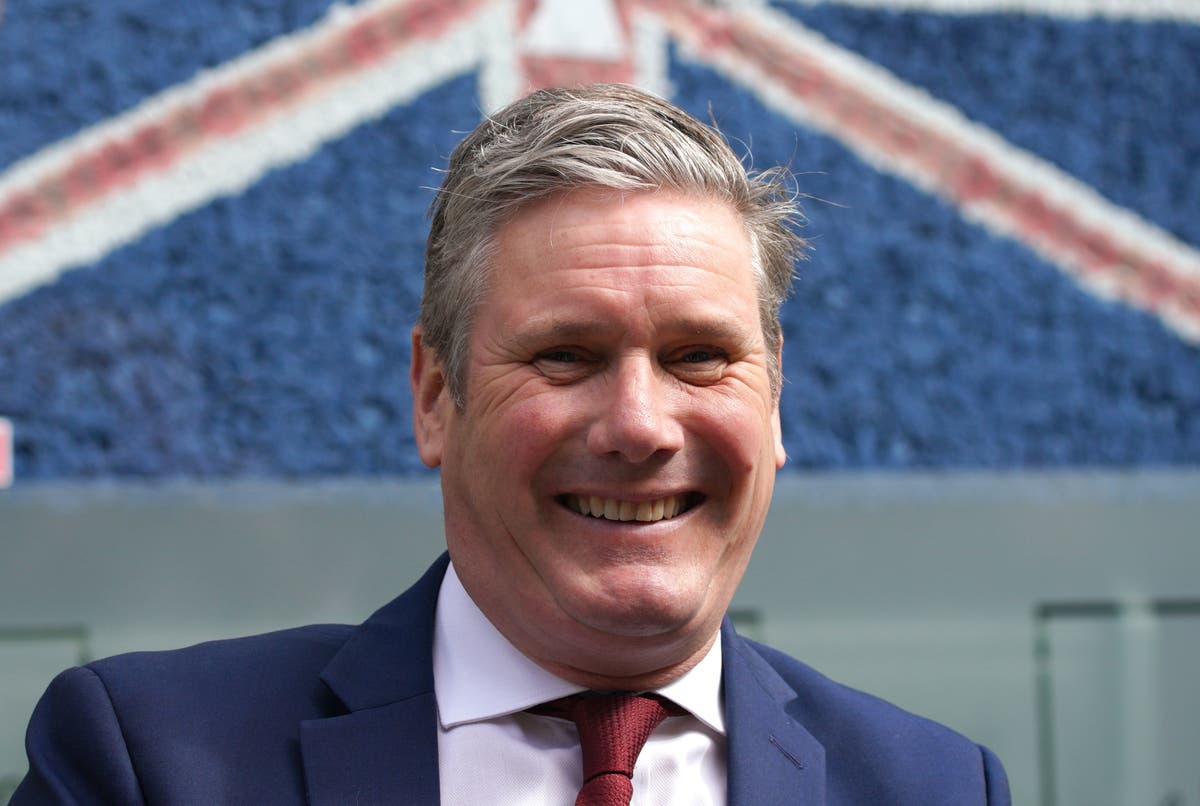 Left-wingers in the Labour Party are upping the ante on the party's MPs to support this week's rail strike, after Keir Starmer banned frontbenchers from picket lines.
MPs will be bombarded with emails urging them to "do their jobs" from Thursday as campaign group Momentum launches a new website to help voters check whether their local representative has turned out.
The group will publish "a running, public total of Labour MPs who have backed the strike and turned up to picket lines" so constituents can see what stance their MPs takes.
The site will also make it easy for people to write to their local MP to urge them to back the industrial action.
It comes after Aslef train drivers' union general secretary Mick Whelan warned that Sir Keir's anti-union policy for frontbenchers "may end the party".
The Labour leader issued the no-picket edict to his team over the weekend in a bid to impress voters and pundits who might be sceptical of industrial action.
But the move may have backfired, as polling on the industrial action shows the public far more supportive of the walk-out than many expected.
One survey by Savanta ComRes found that 58 per cent of people polled believe the strikes are justified, against just one-third (34 per cent) who say they are not.
A separate poll by YouGov found that 37 per cent described themselves as supportive of the strikes and 45 per cent opposed, while another survey by Opinium found 41 per cent in support and 42 per cent opposed.
Since the polls were conducted RMT general secretary Mick Lynch has also won plaudits for calm and direct media appearances defending workers' decision to walk out – though it remains to be seen whether this will shift public opinion further.
Labour MP John McDonnell, a former shadow chancellor said: "There can be no doubt that the workers of the RMT are absolutely right to strike to protect their conditions and conditions, and there can be no doubt that every Labour MP should be out there on the picket line supporting them. Our Party was founded to stand up for workers and to stand with them.
"The responsibility for these strikes lies firmly on the Tories, who have deliberately picked a fight with the rail workers and their union the RMT. It is dangerously irresponsible for this Government to play political games with people's livelihoods right in the middle of a cost of living crisis."
And Labour MP Zarah Sultana said: "Throughout the pandemic, rail workers kept the country moving, and were rightly celebrated for their essential service.
"But now, thanks to this Tory government and greedy profiteers, they face job losses and real-terms paycuts. RMT members can win this fight – but they need the solidarity of each and every one of us. That's what the labour movement is all about."
Labour MP Richard Burgon added that it was "important that we stand with workers, in the rail industry and more widely, who face the biggest attacks on their living standards in decades and who desperately need a pay rise".


UK news in pictures
Show all 50
While the Labour Party was founded as the parliamentary wing of the trade union movement, some moderates in the party now believe the cause of organised labour polls badly, and try to avoid overtly associating with it where possible.
But several Labour frontbenchers have privately expressed exasperation at the ban on attending pickets, and five are expected to be disciplined by the party machine for breaking ranks.
In an email to shadow ministers ahead of the first rail walkout on Tuesday, Sir Keir said: "We must show leadership and to that end, please be reminded that frontbenchers including [parliamentary private secretaries] should not be on picket lines.
"Please speak to all the members of your team to remind them of this and confirm with me that you have done so."
Rail workers across train operating companies and infrastructure manager Network Rail are asking for a new pay settlement so that their wages keep up with inflation. They are also opposing job cut. The government has been criticised for not stepping in to help solve the dispute.
A Momentum spokesperson said: "The Labour Party was founded over 100 years ago to represent the interests of workers. There is no mandate in the party or the public for Sir Keir Starmer to abandon our very identity. Indeed Labour voters and the wider public back the strike.
"Each and every Labour MP now faces a choice – stand with rail workers and the wider labour movement, or leave behind the people we are supposed to represent. Members and workers won't let them sit on the fence."