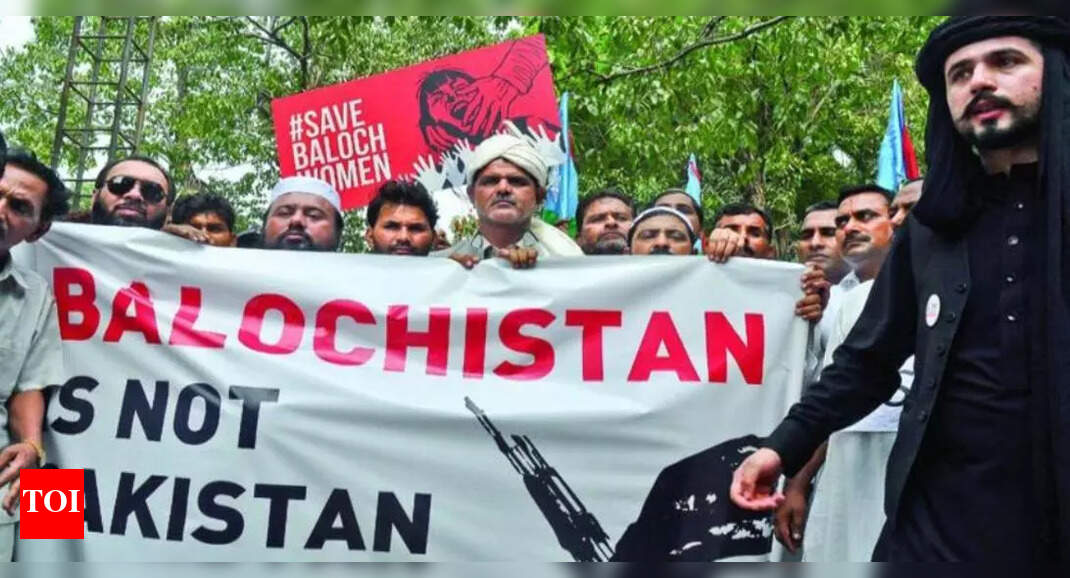 NEW DELHI: Former
Pakistan
Prime Minister Imran
Khan
is dialling up criticism against his successor Shehbaz Sharif and Army Chief General Bajwa, accusing them of pushing the country into chaos and bringing it to the verge of being "split into three".
During an interview with a Pakistani television channel, Khan warned that "if the establishment doesn't make the right decisions, then I can assure you in writing that [before everyone else] they and the army will be destroyed. The country will head towards suicide". Both in his public speeches and in media interviews, Khan leaves no doubt that the "right decision" would be for the "establishment [read Army]" to place him back as PM.
But it was Khan's prognosis of what is in store for Pakistan that has become the hot topic. "If the right decision is not taken, Pakistan will lose its nuclear deterrence … and then it will be fragmented into three pieces". Balkanisation of Pakistan is a thought that Pakistanis shudder to even entertain, bringing back memories of 1971 – the year East Pakistan became the sovereign nation of Bangladesh.
The Pakistan Tehreek-e-Insaf (PTI) chairman Imran Khan further warned that once the country's economy is destroyed, it would go into default, and the world would ask Pakistan to move towards denuclearisation — as was done to Ukraine in the 1990s.
Though Khan did not go into detail on how the country would be broken.
Pakistan has four distinct regions each with their own languages and ethnic population. There is the tribal belt of Khyber Pakhtunkhwa bordering Afghanistan; Balochistan, on the border with Iran; as well as Sindh and Punjab, which border India.
Growing unrest
Think tanks across the world have long predicted that for lasting peace and development, Pakistan would have to break up into three to four separate nations.
Rumblings within Pakistan have grown even more since Imran Khan was ousted out of power earlier this year.
Khyber Pakhtunkhwa
Khyber Pakhtunkhwa CM Mahmood Khan recently said that when Imran Khan calls another protest march in the vein of the party's May 25 Azadi March, he will use his province's "force" against the establishment. He did not elaborate on what he meant by "force".
He also vowed to "avenge what this imported and incompetent [federal] government had done with Khyber Pakthunkhwa and its people … We will snatch our right — Khyber Pakhtunkhwa's right from you". He did not elaborate further on what he was referring to.
Balochistan
The 17-year-old Baloch separatist movement is entering a new phase that could pose more challenges for Pakistan, said several media reports.
From January to March this year, Baloch insurgents carried out more than 20 attacks resulting in deaths of more than 80 security personnel.
Many of the highly educated Baloch youth studying in top national universities are in a state of grave distress, convinced that the state is not serious about solving the insurrection politically. They feel that the only option left is to become part of a guerrilla war against the state. Even females, while breaking the traditional tribal taboos, are becoming part of the insurgency, said local media reports.
On April 26, the attack by female suicide bomber Shari Baloch, a 30-year-old research scholar and schoolteacher, resulted in the deaths of four people including three Chinese teachers at Karachi University.
Sindh
The Sindh government has imposed Section 144 across the province till June second week in the wake of "rising terror incidents" in the province, especially Karachi.
The ban came amid a fresh wave of terrorism in Karachi claiming several lives over the past 30 days.
The responsibility for several of the attacks have been claimed by Baloch and Sindhi nationalist outfits.
Naked threats against country: Shehbaz Sharif
Pakistan Muslim League Nawaz (PML-N) vice-president Maryam Nawaz lambasted the Khan for talking about dividing the country into "three parts".
While I am in Turkey inking agreements, Imran Niazi is making naked threats against the country. If at all any proo… https://t.co/MDgQppum7B

— Shehbaz Sharif (@CMShehbaz) 1654146808000
PM Shehbaz Sharif reacted sharply to his predecessor's controversial comments and said that Khan was "unfit" for any public office after his latest utterances.
He accused him of "making naked threats against the country", and warned him against "talking about [the] division of Pakistan".
"If at all any proof was needed that Imran Niazi is unfit for public office, his latest interview suffices," the PM tweeted.
(With inputs from agencies)
script.async = true; document.body.appendChild(script); );