With her mother and coach Meena Sharma being an international volleyball player, a young Tanvi Sharma would often accompany her to the volleyball and badminton courts at the DC Complex in Hoshiarpur, Punjab. While the Punjab youngster opted to play badminton, her mother took a coaching course in badminton and started coaching her, her elder sister, as well as other students at the complex.
On Friday, as the 14-year-old completed her 21-17, 21-19 win over Yashvi Bhat of Delhi in the women's singles first round match in the Yonex Sunrise 30th Smt Krishna Khaitan Memorial All India Junior Ranking Prize Money tournament being organised by Express Shuttle Club Trust at the Tau Devi Lal Sports Complex, the youngster was instantly reminded by her mother to have a cooling down session.

"My mother always tells me that badminton is just like volleyball — except that it's a team game. She often gives me examples from volleyball on how to create the angle as well placement of the volleyball in case of the shuttle. She took up coaching to train me and my elder sister and it's her encouragement that I am able to face the much older U-19 players and win," says Sharma while talking with The Indian Express.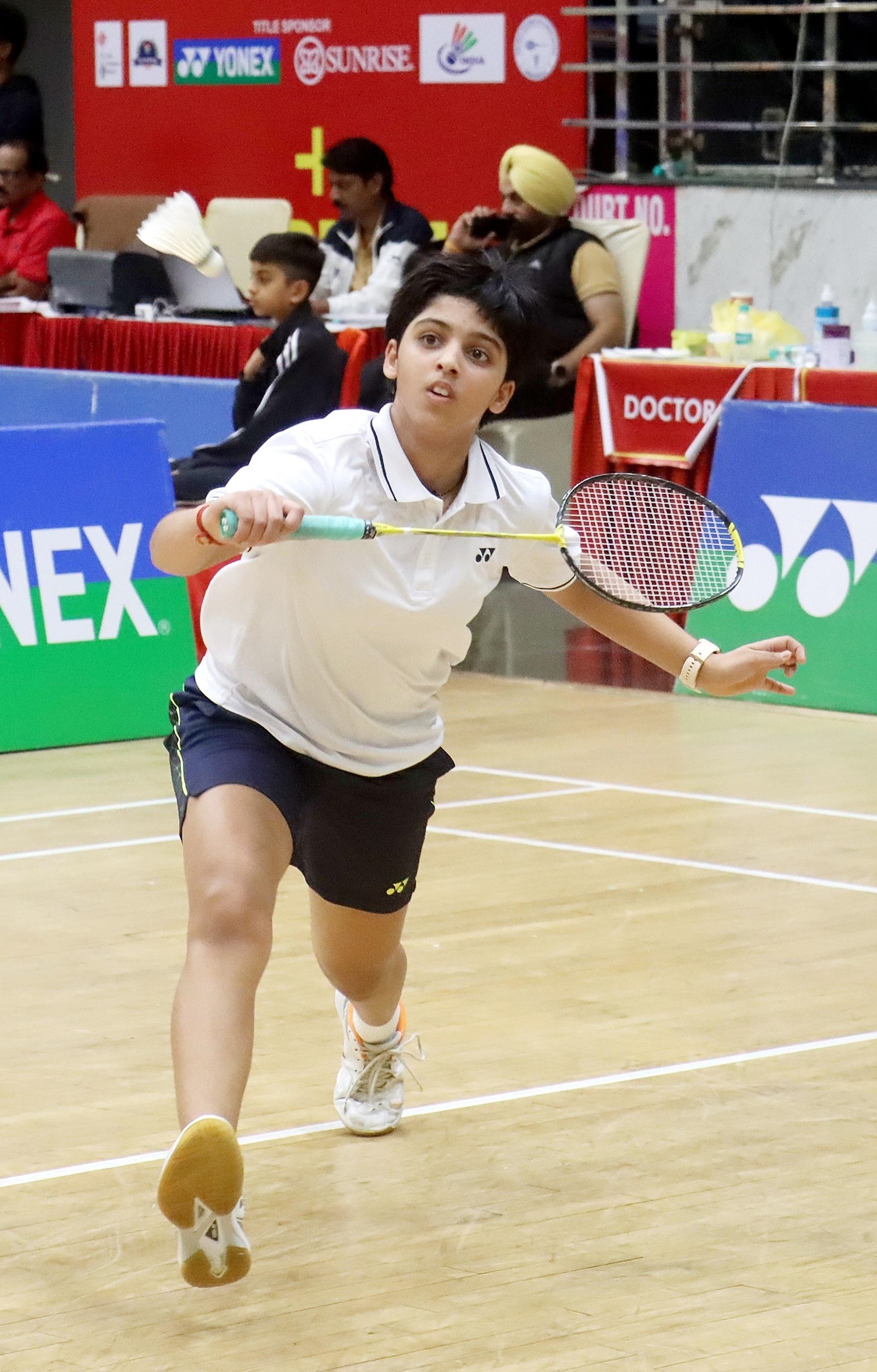 While Sharma trained as a non-scholarship trainee, it also meant that Sharma's family spent a considerable part of their savings during the five-year stint at Hyderabad. (Express Photo by Jasbir Malhi)
The youngster would also watch her elder sister Radhika play badminton, and Radhika's selection for the Gopichand Academy in Hyderabad in 2016 meant that she too had to shift base to Hyderabad along with her mother. While Sharma trained as a non-scholarship trainee, it also meant that Sharma's family spent a considerable part of their savings during the five-year stint at Hyderabad.
"My husband is a government employee and we took the decision to take Tanvi, along with Radhika, to Hyderabad to train at the academy. Staying in such a big city is not easy and it took a lot of expenditure for us. I would observe and talk with Gopi sir and other coaches a lot and whatever I could grasp, I have been training Tanvi and Radhika and other kids at Hoshiarpur," says the mother.

Last year, Sharma became the U-15 and U-17 national champion at Bhubhneswar apart from reaching the U-19 final where she lost to Devika Sihag. The youngster won two U-15 All India Junior ranking titles apart from reaching quarters in the India Junior Grand Prix and Kotak India Junior International the same year.
This year, the youngster has won the silver medal in Asian U15 Junior Championships in China, apart from winning the title in Kotak India International. "At the four courts in Hoshiarpur, I often play much older boys and girls and it gives me confidence. Initially, I used to fear the U17 and U19 competitors but as I scored wins, the fear was gone. The Junior Nationals U19 final against Devika didi made me learn a lot of things. The silver medal in Asian Junior Championships was perhaps the last of my U15 international medals and the aim is to win such medals at the U-17 and U-19 levels in the coming future," says Sharma.
The family has once again shifted back to Hoshiarpur in recent years but shall take the decision to shift Sharma back to Hyderabad once she completes her high school. "She understands she has to shift to make the transition from junior to senior a smooth one," says the mother.
As the ardent Akane Yagamuchi fan heads off court, she knows what she has to do to unwind from the tough day. "Whenever I am free, I often see Yagamuchi videos. I like her jump smashes and pushes. Between that, sometimes I watch Doremon and other Japanese cartoons to relax," laughs Sharma.