In its almost 70-decade history, Hindi cinema has seen female leads transform from 'dukhiyaari' and 'bechaari' to ones who live on their own terms. Not just the roles they play, but even their look has evolved. And, the one actress who has enabled actresses of today to showcase their sultry side unabashedly and wear whatever they choose is Zeenat Aman. It is Zeenat who broke the template of 'traditional is beautiful', followed staunchly by her predecessors, and made way for the likes of Kareena Kapoor Khan, Priyanka Chopra, Aishwarya Rai and Alia Bhatt, among others, to look stylish, wear modern clothes and embrace their sensuality on-screen.
Zeenat Aman entered the film industry in 1971 and burst the idealistic bubble of the 1950s and 1960s, paving way for a more realistic portrayal of women, who until then were divided into either vamps or sati-savitri. In fact, the first time people took notice of her was when she was smoking marijuana, wearing bohemian prints and bindis, and living like a hippie in Hare Rama Hare Krishna. She played Janice, Dev Anand's young sister who consumed drugs, a role rejected by many lead actresses of the time.

She suited Anand's checklist for the role — "Indian in looks but with a Western upbringing, someone who would not hesitate to smoke or to wear outfits that would accentuate her whimsical, carefree, to-hell-with-the-world attitude."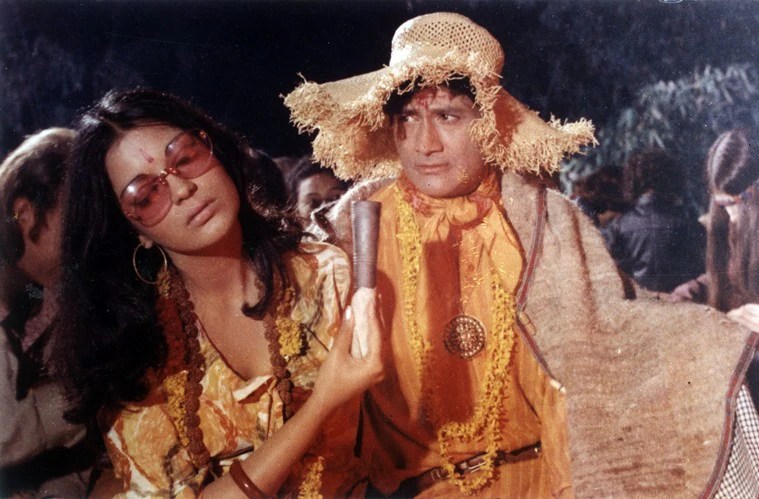 Zeenat Aman and Dev Anand in Hare Rama Hare Krishna. (Express archive photo)
Born to a Muslim father and a Maharashtrian Hindu mother on November 19, 1951, she spent nine years at a boarding school in Panchagani. Her parents divorced when she was two and her mother married a German man. Aman excelled at academics and became a head girl. Her I.S.C. results won her a scholarship to the United States and she did a year of high school in California.
On her return to India, she modelled for a while and entered the Miss India contest. She won the Miss Asia Pacific title and debuted in O.P. Ralhan's Hulchul (1971), in a minuscule role. At the time, nobody, including Zeenat, thought she would become a sensation and acquire the top spot in the Hindi cinema.

"I was never aspiring to be a Hindi film heroine. I wanted to study languages and go to the United Nations and be an interpreter," Brut India had quoted Aman as saying. But little did she know a chance meeting with Dev Anand would change her fate forever. In her opinion, the actor-director cast her for Hare Rama Hare Krishna as "he found me different since I was a teenager from southern California who is packing a pipe and not at all affected or impressed by who he was." She also revealed she was so unprepared to become an actor that she didn't know Hindi and did her screen test for the film in English. But Anand's cameraman approved of her and she hypnotised the audience as she sang 'Dum Maro Dum'.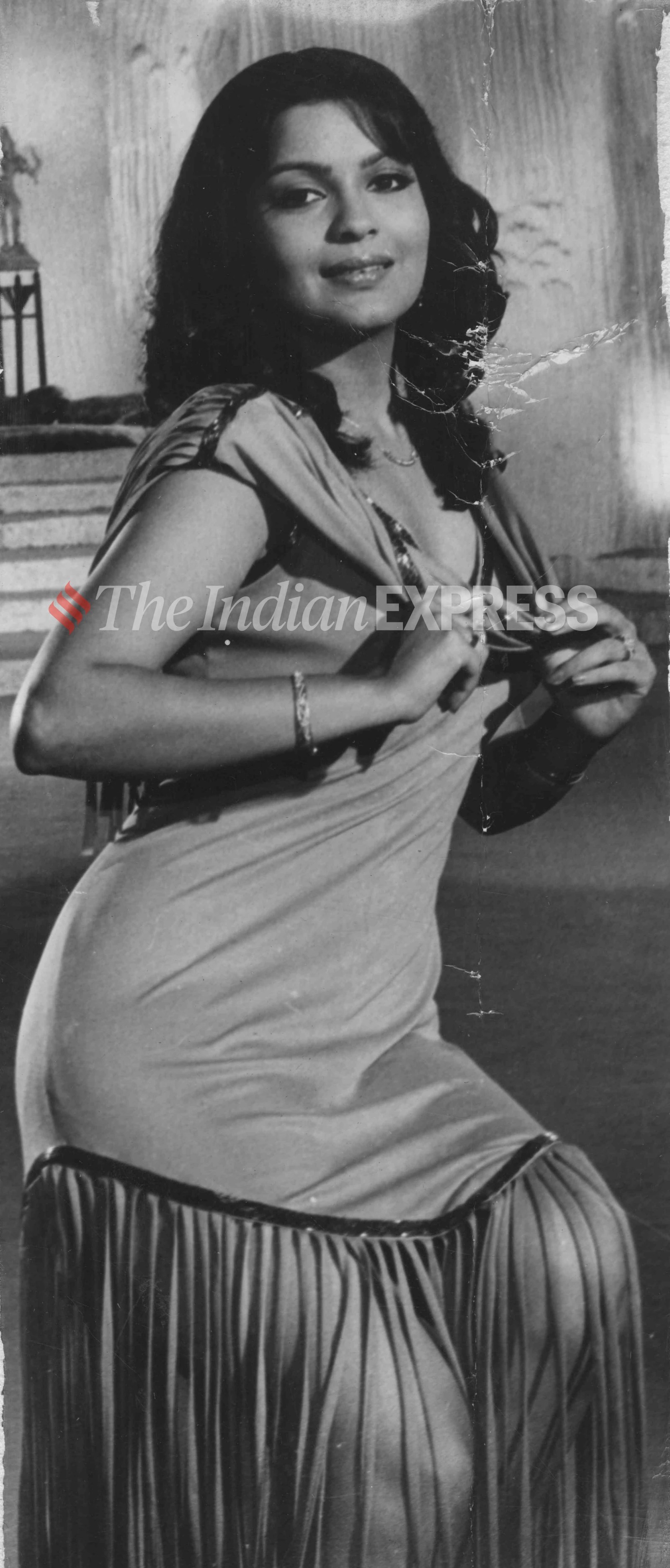 Zeenat Aman won the Miss Asia Pacific title and debuted in O.P. Ralhan's Hulchul (1971). Express archive photo
In her subsequent films, Zeenat transformed the convention of a Hindi film heroine. She made popular filmmaker Nasir Hussain change the way he perceived his leading ladies with Yaadon Ki Baraat. During the shoot of her superhit song in the film, 'Chura Liya Hai Tumne Jo Dil Ko', she refused to be dressed in a pink salwar-kameez.
"Nasir Hussain's muse was Asha Parekh and he was used to dressing his leading ladies like that. So, he dressed me like Asha Parekh. I was very skinny and I looked extremely gawky in this pink kameez-salwar and a blue waistcoat. When I looked at it, I was like, 'Sir, no. This is just not working.' So, I chose the outfit that I am wearing in the song and that's why I have got my signature stamp on that," Aman told Shoma Chaudhury at an event.
It was not that actresses didn't don a bikini in the Hindi film industry before (Nutan and Sharmila Tagore did) or western clothes (Tanuja). But while pushing the boundaries of style and sensuality with confidence, the actor also debunked the suffering stereotype with her characters and became the 'bad-good girl' of Bollywood.
She played a wife who gets into an extramarital affair in Dhund (1973), an opportunist who leaves her unemployed lover for a millionaire in Roti Kapda Aur Makaan (1974), a woman who considers abortion to achieve her dreams in Ajnabee (1974), and an unapologetic sex worker in Manoranjan (1975). She told Filmfare, "I'm told I brought a change in the depiction of the female protagonist. Earlier, there were just shades of white and black, the heroine and the vamp. Perhaps, I brought in strokes of grey." She added in another interview with Shoma Chaudhary, "Producers started liking the grey shades in me after Hare Rama Hare Krishna and Roti Kapda Aur Makaan."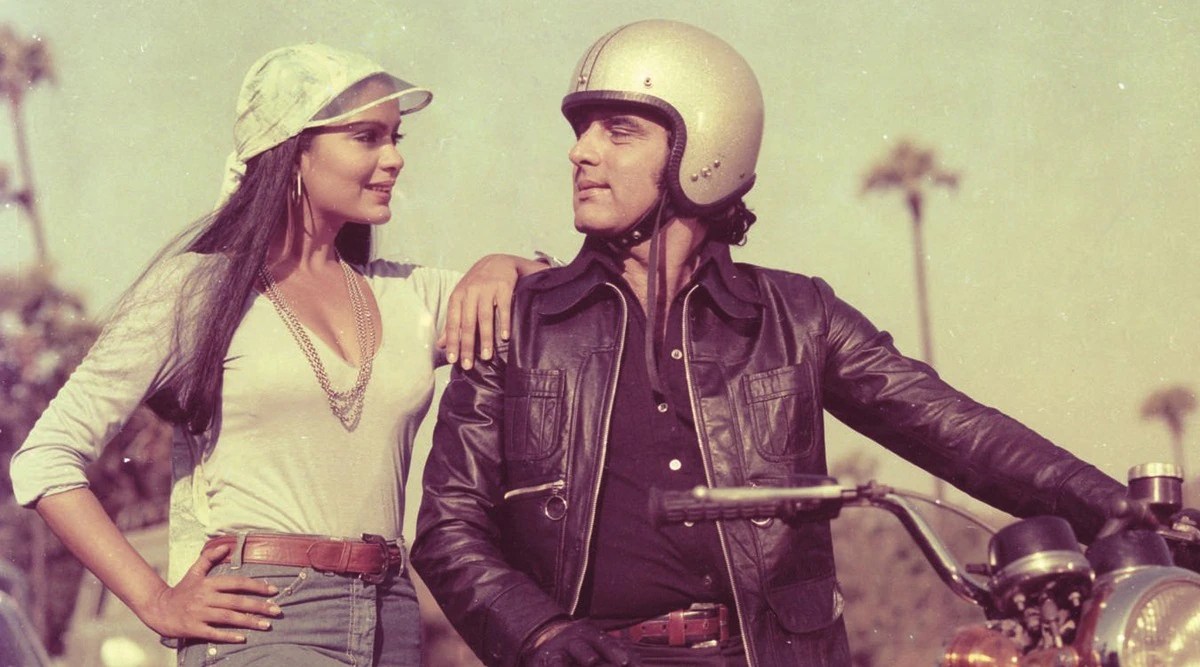 Feroz Khan with Zeenat Aman in a still from Qurbani.
Aman worked with Dev Anand in a dozen films after the success of Hare Rama Hare Krishna: Heera Panna (1973), Ishq Ishq Ishq (1974), Prem Shastra (1974), Warrant (1975), Darling Darling (1977), Kalabaaz (1977). But none, besides Warrant, brought her success. However, her films with other filmmakers and actors reaped her results. One of her most successful pairings happened with Amitabh Bachchan as they starred together in hits like The Great Gambler, Don, Dostana, Laawaris, Pukar, and Mahaan. "Over the years, I honed my craft and learnt the business and I was extremely hardworking and dedicated. I improved my Indian language too," she told BBC Asian Network.
The one film which showcased the splendid talent of Zeenat and became a career-defining moment for her was Raj Kapoor's 1977 social drama, Satyam Shivam Sundaram. The film didn't fall in her lap. She made great efforts to convince Kapoor that no one could pull off Rupa better than her.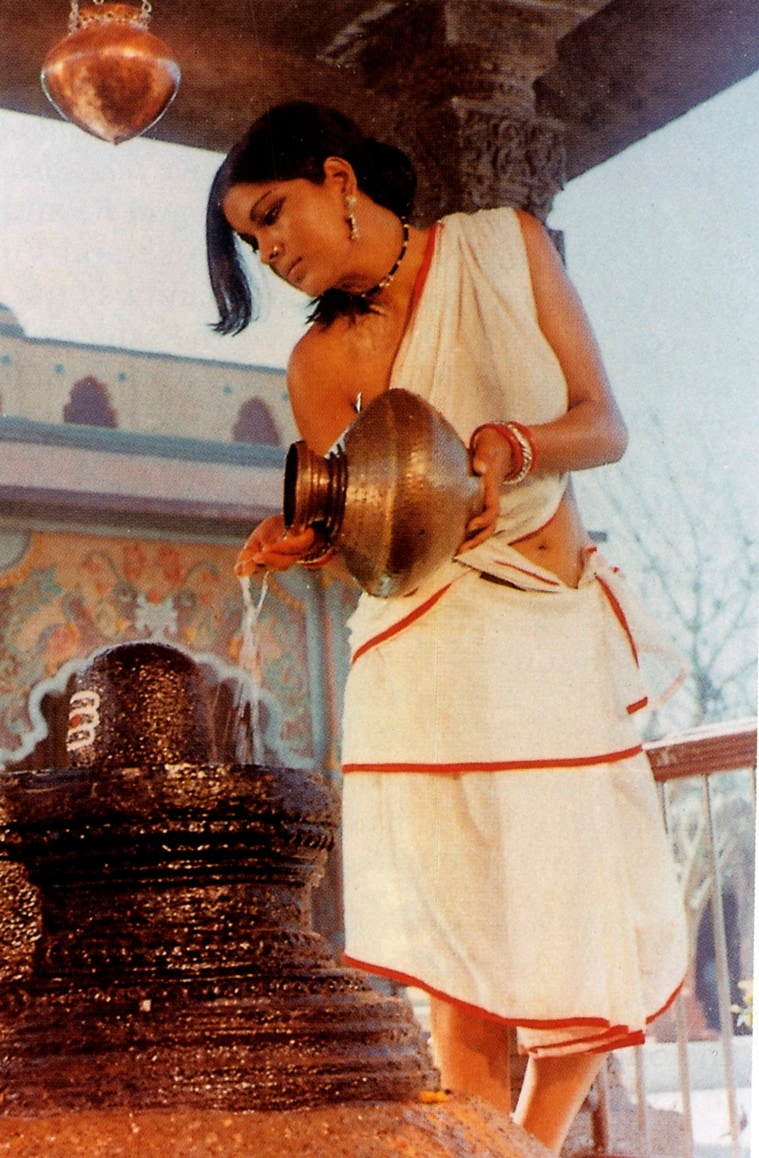 Zeenat Aman in Satyam Shivam Sundaram. (Express archive photo)
When Aman and Kapoor were shooting for Vakil Babu, the filmmaker was writing the script of Satyam Shivam Sundaram, and he would often talk about the movie with her, especially Rupa's character. "Raj ji used to talk very passionately and intensely about Rupa's character. He would often tell me about how Rupa would do certain things and those conversations made me extremely curious. Gradually I felt like I wanted to be Rupa," Aman shared during a Zee Classic show, 'My Life My Story'.
One day, after finishing her shoot, Zeenat decided to get into the role of Rupa. She wore a 'ghaghra-choli' and put a tissue paper on her face, to show the burns. She went to meet Kapoor in that get-up and was stopped at the door and asked who she was. She said, "Raj ji se kehna Rupa aayi hai" (tell Raj that Rupa has come). Kapoor was stunned to see the efforts Aman put in and immediately called his wife Krishna Kapoor who came with some gold coins as a signing amount of Zeenat.
Since she found the film to be a way to shut her critics who called her just a 'sex symbol' and 'glamour girl', Zeenat was tense before its release. She shared with Vir Sanghvi in a 1977 interview, "I told Raj ji once at Loni that if the film flopped, I was going to jump out of the nearest window. It means so much to me. Of course, Raj ji said that he would accept all the blame for its failure. And all the credit for its success! That's fair enough. It's really his film all the way."
Satyam Shivam Sundaram was released in 1978 and drew some strong reactions from the audience for Kapoor's depiction of her as an object of desire. But it brought attention to Zeenat's acting prowess and made other filmmakers take notice of her. She was cast as a rape victim in BR Chopra's Insaaf Ka Tarazu and was appreciated by many for her avenging act against sexual exploitation. The vengeful Roma in Don (1978) and the white bikini-clad Sheela of Qurbani (1980) became the stepping stones towards the number one spot in the leading ladies of Hindi cinema.
Zeenat reportedly charged a fee of Rs 5-7 lakhs per film. On her way up the ladder, she ignored smaller roles, even when they came from directors like Feroz Khan and Manmohan Desai because she was trying to "boost" her "stock".
She told BBC Asian Network she refused to play Parveen Babi's part in Amar Akbar Anthony as she had given Desai a bigger hit with Dharam Veer (1977) and now didn't want to do smaller roles. "He offered me this part and it was very small. The pay cheque was even smaller, so I said, 'No, I just gave you a hit'". Feroz Khan offered her a supporting role after Qurbani, and she refused that too. "I was looking to boost my stock at the time and I said no to him. I don't think he was very happy about it. There were a lot of expletives from the other side of the phone," she shared. Aman said she got this business acumen from her mother.
When Zeenat Aman was basking in "wealth and fame", she was devoid of "love" and made some "foolish mistakes" in her personal life. She was unlucky in love, twice. Her relationship with Sanjay Khan went sour, and he reportedly physically abused her at a hotel, leaving her with a grave eye injury. When asked about it, Aman only said, "You have to take life in stride". Later, she married actor Mazhar Khan only because she wanted children.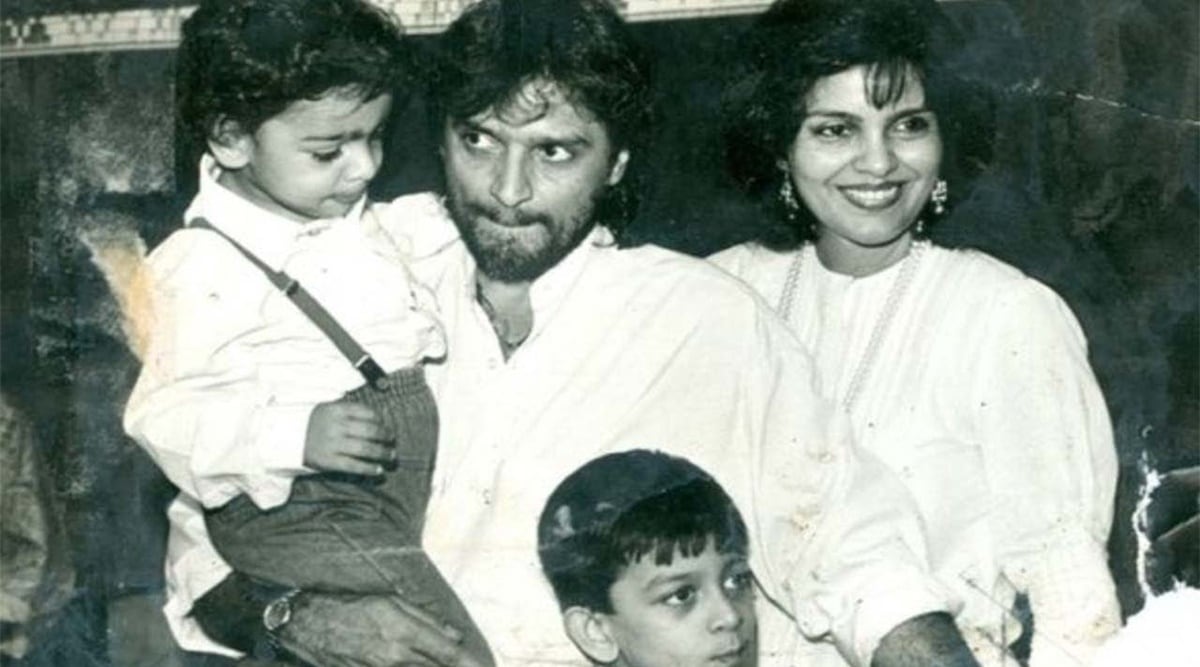 Zeenat Aman and her husband Mazhar Khan have two sons together. (Photo: YouTube)
Aman told Simi Grewal on her talk show, Rendevous with Simi Grewal, "The only reason to get married is to have a family. I felt ready at the time." But she couldn't quote a thing she liked about him that led to her marrying him. "He was maybe just at the right place at the right time," she said. Aman and Khan got married in October 1985 and welcomed their first son in October 1986.
It was during the first year of her marriage that Aman realised she had made a mistake and maybe she should have listened to her mother, who had strongly opposed her decision to marry Mazhar Khan.
"First year after marriage, I realised I have made a mistake. I was pregnant with my first child and Mazhar was not there. He was with someone else. I still tried to make it work for another 12 years for my children. There was no light at the end of the tunnel for me. There was not a single moment of happiness or joy during those 12 years. But I still tried making it work," Aman told Simi.
Despite getting no love from her husband, Aman nursed him for five years, from 1993 to 1997, when he fell sick. When he recovered in 1997, she walked away from the marriage, and he passed away in 1998. But his mother and sister didn't let Zeenat pay her last respects to him "as a punishment for leaving him".
With so much happening on the personal front, Zeenat's professional life took a backseat. She chose to be a full-time mother to her sons instead of starring in films. And, when she tried coming back, "there were no age-appropriate roles".
But, on February 11, 2023, her fans and millennials who until then had just watched her swinging and singing "Laila main Laila" or "Aap jaisa koi", found her back, not in movies but on Instagram. This time the audience witnessed a new side of a film celebrity — unconventional, authentic, and uninhibited about sharing her life's experiences. Her endearing captions, which do not come from any PR machinery, found takers as she shared a few anecdotes from her active years in the film industry and wrote about self-worth and body positivity.
=
Today, the actor turns 72, but she definitely doesn't mind ageing as she believes, being old is as "wonderful" as being young. She once wrote, "Being young is wonderful, but so is being old. It thrills me to see more and more silver-haired women (of all ages) challenge the status quo."