As the bezels around the display continue to shrink, laptop makers are now shifting gears to offer a slightly larger 16-inch screen. This trend is becoming mainstream, and HP is the latest to join the bandwagon. Its newest model, the Victus 16, as the name suggests, features a 16-inch screen and is powered by the Ryzen 7 7840HS CPU and the NVIDIA GeForce RTX 3050 laptop GPU. It's a mid-tier gaming laptop with a balanced price-to-performance ratio. Here is the review of the HP Victus 16, which retails for Rs 86,999.
With this offering, HP is clearly aiming for distinctive branding that highlights Victus more as a sub-brand. In my opinion, this move will help the brand promote and build a standalone identity that specifically caters to the gaming community. I also liked the Performance Blue colourway, which is slightly on the darker side; this also means you don't have to clean it very often.

The external surface of the laptop has a soft, rubber-like touch, making it a bit susceptible to scratches from day-to-day objects like keychains and coins. In fact, the unit I received for the review did have some permanent scratches on the top lid. There isn't much to complain about regarding the I/O, other than the fact that it lacks a microSD/SD card slot.
For gamers, there is a usual set of full-sized HDMI ports, an RJ45 Ethernet jack, a single USB-C port with DisplayPort 1.4 support, a couple of USB-A ports, a 3.5mm headphone jack, and a charging port. It is also worth mentioning that this laptop lacks Thunderbolt support, which is commonly found on laptops with Intel processors.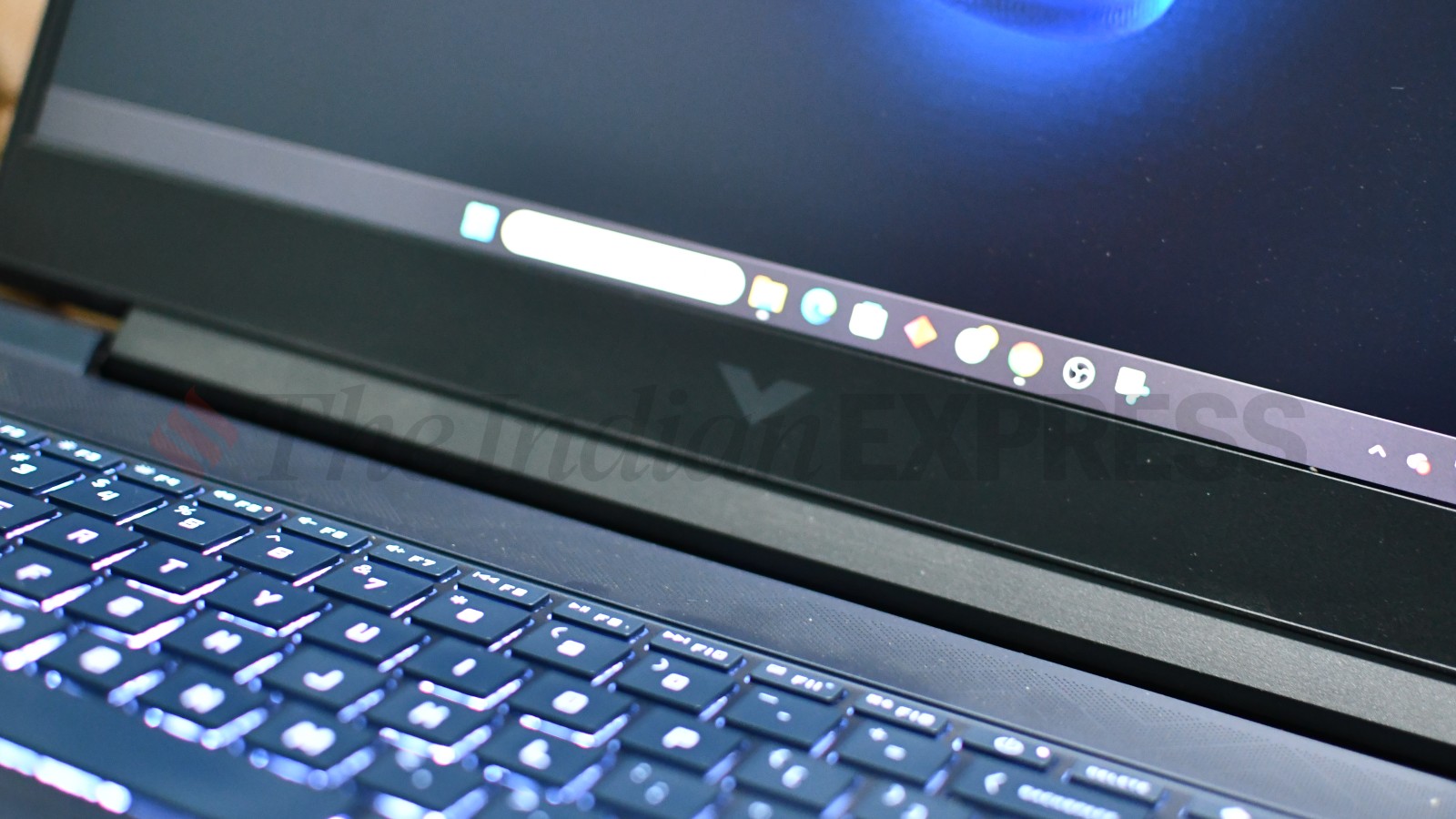 The stereo speaker setup is tuned by B&O (Image credit: Vivek Umashankar/The Indian Express)
Display and audio
The Victus 16 comes equipped with a large 16.1-inch FHD resolution screen with a 144Hz refresh rate and 100 per cent sRGB colour gamut coverage. With built-in technologies like anti-glare and low-blue light mode, it is on par with some mid-range gaming laptops. However, there is no HDR support and using this laptop under a bright light makes the screen look dull, as the display can only get as bright as 250nits.

In my usage, for most time, brightness wasn't that big of an issue as long as I was using it at my desk. Similarly, the colour reproduction is good enough and the higher refresh rate makes the whole device feel smooth and fluid.
I was pleasantly surprised by the speaker performance, the stereo speaker setup with B&O tuning sounds loud and clear, although, they definitely lack bass. While gaming, I did feel that the sound is adequately loud and they even mask the noise of the two fans, which mostly kick in while gaming or while running heavy apps.
Keyboard and trackpad
It's 2023, and surprisingly, some laptops still include a sub-par 720p webcam. However, the HP Victus 16 (AMD) is clearly ahead of the curve with its 1080p resolution webcam featuring a slidable privacy shutter. The camera on the Victus outshines the one on my MacBook Air M1 and the recently reviewed Lenovo LOQ (review). The high-resolution camera produces sharper images with low noise when compared to laptops equipped with a 720p webcam.
The laptop features a full-sized keyboard with a dedicated number pad. By default, the backlight is set to white, giving the laptop a classy look, but there is also support for RGB lighting. Similarly, the trackpad is good enough for regular use, but for gamers, an external mouse is a must.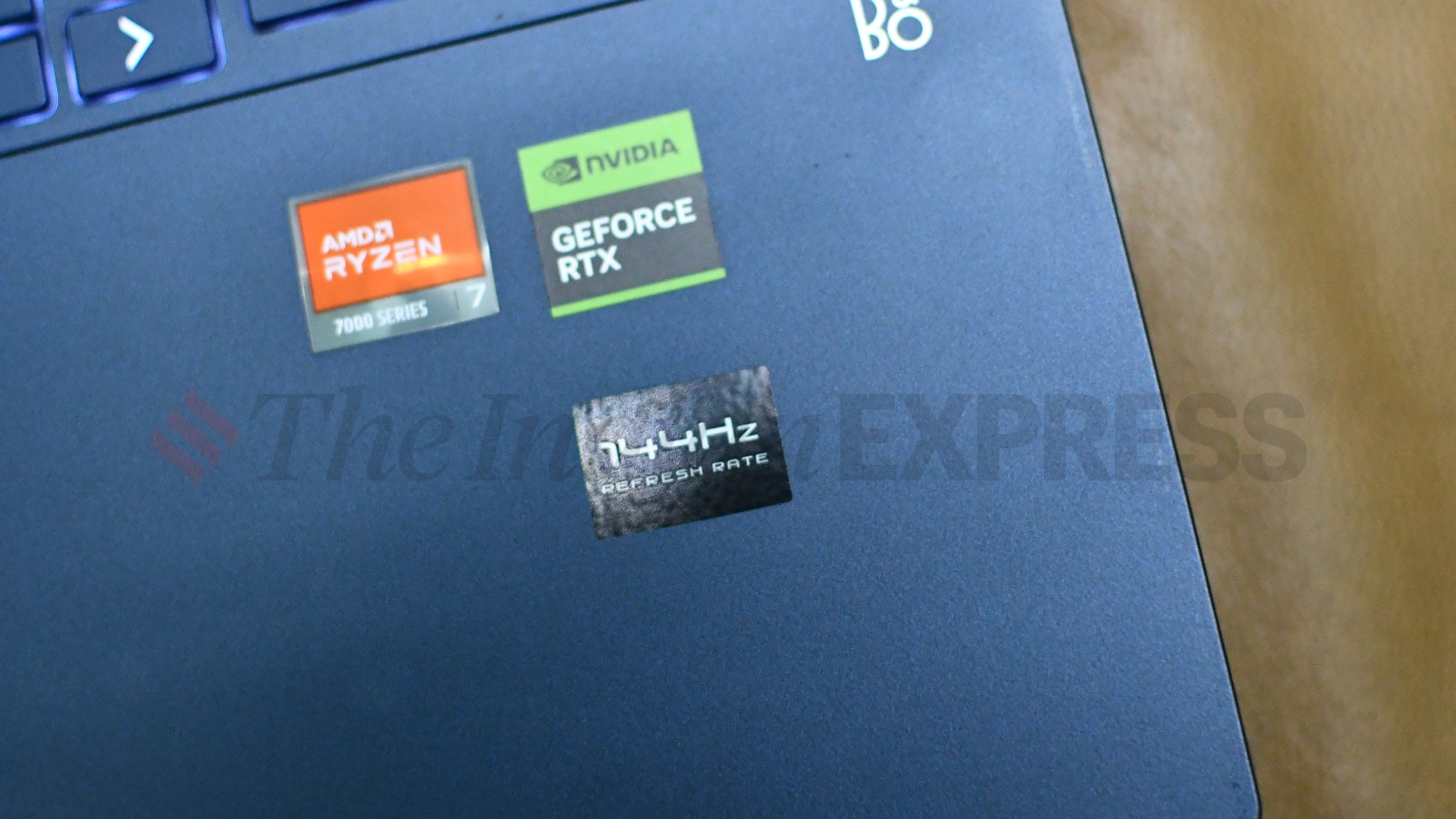 The laptop packs a capable CPU and GPU (Image credit: Vivek Umashankar/The Indian Express)
Performance and battery
The notebook is powered by the Ryzen 7 7840HS CPU, an octa-core processor with 16 threads and a peak clock speed of (max boost) 5.1 GHz, providing excellent single-threaded performance during gaming. It also features the integrated AMD Radeon 780M 12-core graphics, allowing the laptop to utilize the integrated GPU for non-gaming tasks, enhancing battery life.
The NVIDIA GeForce RTX 3050 GPU, as tested on other mid-range gaming laptops, proves to be an excellent 1080p gaming GPU with 6 GB of video memory, and its performance on the Victus 16 is consistent with this expectation.
Regarding CPU performance, the HP Victus 16 (AMD) achieved 2637 and 11988 points on Geekbench 6 single and multi-core CPU tests. The RTX 3050 mobile posted 64271 points on the Geekbench 6 OpenCL GPU test. On CPU-Z, the laptop scored 681.4 points on the single-thread and 6817.3 on the multi-thread CPU test. On the Superposition graphics benchmark, the laptop delivered an average of 32fps at 4K resolution (optimized) and 53fps at 1080p resolution at high graphics settings. Playing GTA: V at 1080p high graphics settings, the laptop rendered an average of 85fps.
For slightly modern games, you can expect around 60fps at 1080p resolution. Thanks to 16 GB of RAM and a faster PCIe Gen4-based 512 GB SSD, the system handled multiple Chrome tabs without slowing down.
Aside from the impressive performance, what truly surprised me was the laptop's ability to stay cool for most of my testing, especially when not gaming. Unlike many mid-range gaming laptops that tend to ramp up the fan even during non-gaming tasks, the Victus 16 (AMD) did not exhibit this behaviour, and I didn't feel any heat, unlike my Asus TUF F15, which tends to emit warm waves from time to time. This makes the Victus 16 (AMD) an excellent laptop for non-gaming-related tasks.
While gaming laptops and battery life typically don't go hand-in-hand, and many machines struggle to offer three to four hours of battery life, the Victus 16 (AMD) is equipped with a mid-sized 70 Wh battery that easily provides around five hours of battery life for tasks like video streaming and web browsing. Gaming will inevitably reduce battery life, but the fast charging feature comes in handy in such situations, and it's not recommended to game on this machine without plugging in the adapter.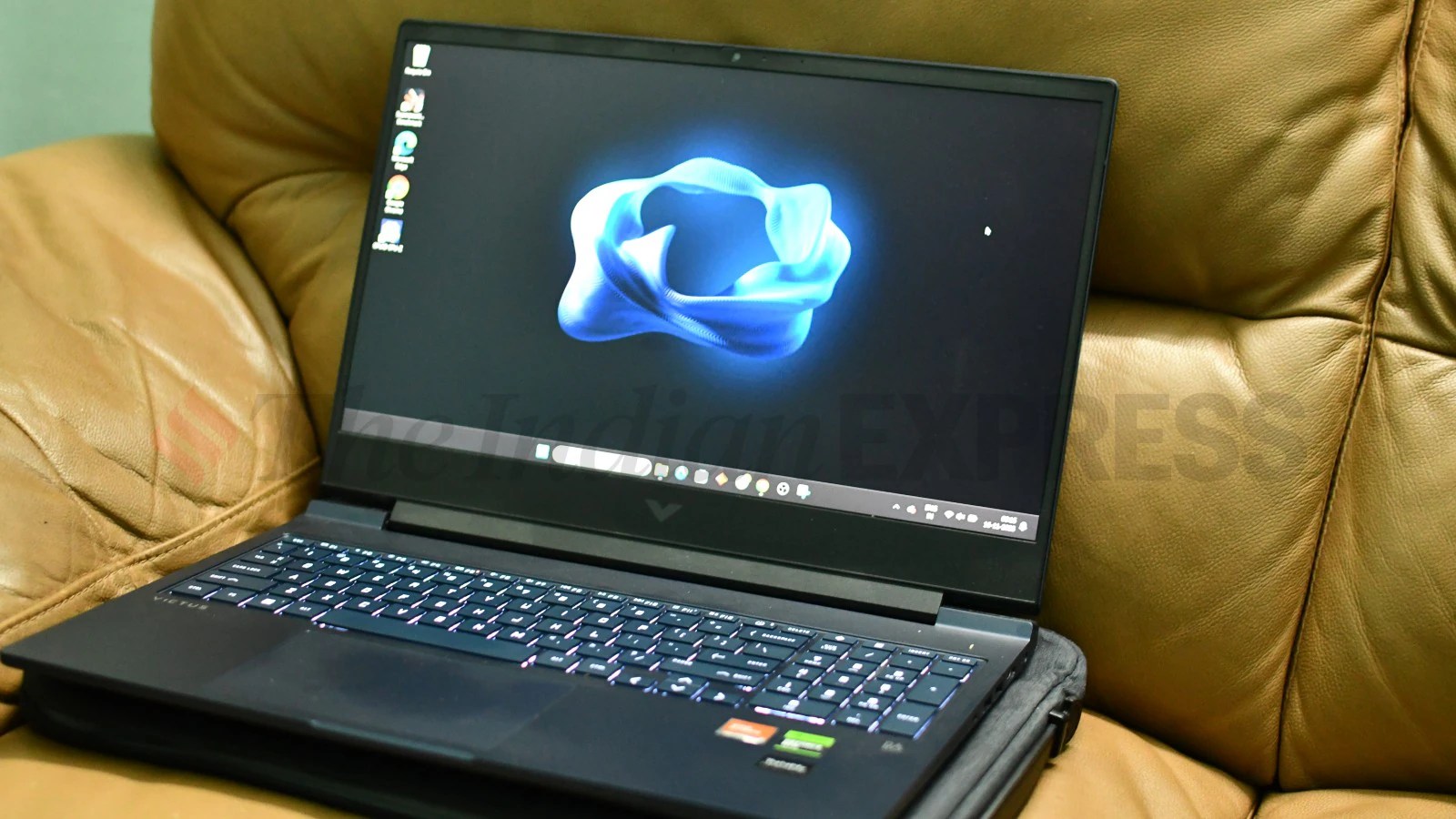 A good mid-range gaming machine (Image credit: Vivek Umashankar/The Indian Express)
Bottomline
For me, the standout feature of the HP Victus 16 (AMD) wasn't just its performance, although it is plenty powerful, but rather the power-efficient chip it houses. AMD's latest 4nm chip makes this laptop one of the most efficient in its segment. If you are looking for a productivity-first and gaming laptop, we definitely recommend the HP Victus 16.