The BJP on Monday, through a social media post, announced that the Mumbai Trans Harbour Link will be thrown open for public use on December 25. However, officials of Mumbai Metropolitan Region Development Authority (MMRDA) have expressed surprise over the claim, saying several components of the project that will allow the stretch to be pliable are yet to be complete, and it will be difficult to meet the December 25 deadline.
MMRDA officials said that while the deck work is mostly complete, package 4 of the project, which involves setting up of intelligent transport systems (ITS) including toll and transport management system and equipment installation for the project are yet to be complete. The project is unlikely to meet the December 25 deadline, as even the tender to set up these systems was given only in April this year.

Work on the deck which includes asphalting and waterproofing is also pending, but officials said it could be completed in the next few days. "While we are in a position to complete the civil work by December, the tech systems vital for the project will take time to be put in place," a senior MMRDA official said on condition of anonymity.
Officials also said that the announcement had caught them by surprise, and it has put the organisation under extra pressure.
While the announcement came via a social media post by the ruling party, Maharashtra government and the MMRDA, which is building the project, are yet to make an official announcement on the project.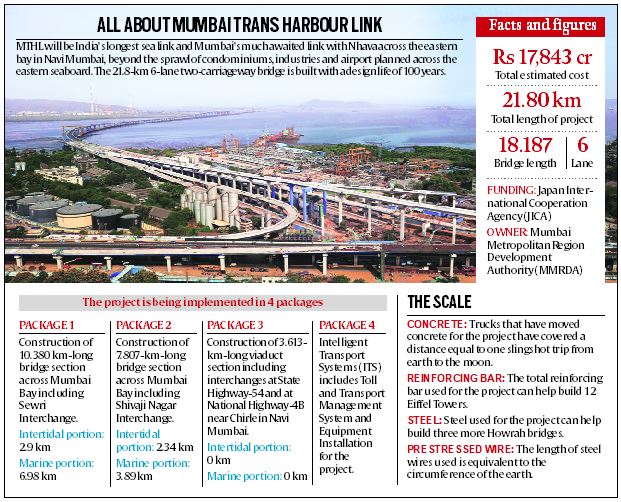 In the meantime, while more than 97 per cent work on the actual sea link is complete, questions are being raised over its efficacy in the absence of adequate traffic dispersal roads to ensure smooth traffic flow from the bridge.
The 21.8-km six-lane access controlled bridge from Sewri in Mumbai to Chirle in Navi Mumbai has three interchanges. One interchange is at Sewri in South Mumbai, connecting MTHL to Eastern Freeway (Mumbai Side), second at Shivaji Nagar in Ulwe connecting MTHL to Navi Mumbai Coastal Road Project and the third at Chirle interchange — where one arm will connect State Highway-54 and the second will connect NH4 Mumbai-Pune Highway.
The ancillary infrastructure that needs to be in place at the end of these connectors, however, is absent, raising concern over the efficacy of the main purpose of the bridge—that of speeding up traffic flow by avoiding bottlenecks.
For instance, while the Shivaji Nagar connector at Ulwe is supposed to have six ramps, only two will open initially, catering solely to smaller vehicles, as per MMRDA sources. Due to absence of Navi Mumbai Coastal Road, the Shivaji Nagar Ulwe interchange will only facilitate traffic movement from Mumbai to and fro, and not from Chirle.
To avert this congestion, it was proposed that the Navi Mumbai Coastal Road be constructed by the City and Industrial Development Corporation (CIDCO). The six-lane road would connect Aamra Marg after Panvel Creek Bridge with MTHL at Shivaji Nagar Ulwe allowing for smooth dispersal of traffic. Work on this stretch has, however, not picked up, raising questions on whether it could hinder traffic at Ulwe side once MTHL is thrown open.
The Sewri-Worli connector that was planned to facilitate movement from MTHL to the western suburbs is also expected to be completed only by 2025. The connector is mainly planned to ease 15-20% of MTHL traffic from Sewri interchange. There are a total of eight ramps at Sewri interchange, two to be attached with the connector once it is ready. The remaining six ramps will be connected to Eastern Freeway and Messant road in Sewri, which will be opened to traffic when MTHL is opened first.
Work on the actual MTHL deck, however, is going on in full flow with overall 97 per cent of the project has been done so far.