Seventeen months of wait, a host of denied permissions, and after having dealt with a severe bout of angst, it was a sweet reunion for 105-year-old Hajra Bibi from Pakistan with her niece, Hanifan, 60, at the Kaaba in the holy city of Mecca, Saudi Arabia, last week (Thursday).
The families, which was divided during the Partition in 1947, had made several previous attempts to meet, only to see their efforts come to a naught owing to a multitude of reasons.

It finally took a heart wrenching phone call in June last year, and a very gracious YouTuber from Pakistan, for Hajra Bibi to finally reunite with her niece in Mecca.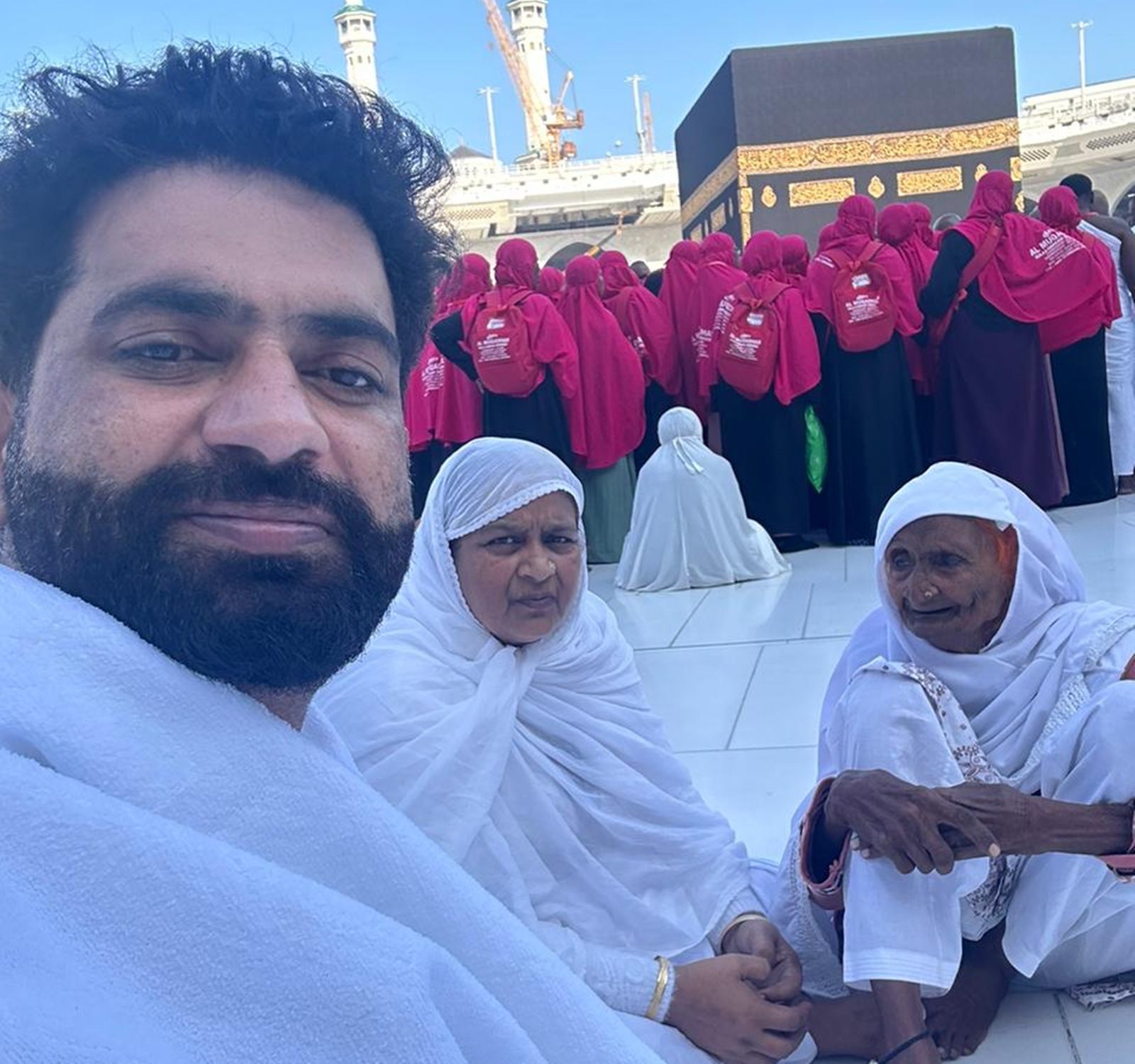 Dhillon with Hanifan and Hajra Bibi
The families had made several attempts to meet at Gurdwara Kartarpur Sahib — which is a visa-free border crossing connecting Gurdwara Darbar Sahib, in Pakistan, to Gurdwara Dera Baba Nanak, Gurdaspur, Punjab. However, they failed to obtain the necessary permissions every time.
Hanifan, who lives in Kapurthala in Punjab, had also applied for a visa from the Pakistani government to meet Hajra Bibi, which was subsequently denied.

In June last year, Hajra Bibi had for the first time made a video call to Hanifa. It was during the call that she asked to see her younger sister, Majeeda, only to learn that she had passed away some time ago. The news broke Hajra Bibi.
Just when both families had started to give up on hope, a Pakistani YouTuber, Nasir Dhillon, and a Sikh man living in the US, Paul Singh Gill, came to their aid, assisting both the families in traveling to Mecca, where they met at the Kaaba last Thursday.
"We had uploaded the video of Hajra Bibi, which helped us in locating locating the family of her sister in Punjab, India. Hajra had come to Pakistan during the 1947 Partition, whereas her younger sister, Majeeda, had decided to stay back in India ," said Dhillon.
Dhillon — who also traveled to Mecca and recorded the reunion for his YouTube channel, Punjabi Lehar, saw both Hajra Bibi and Hanifan breaking down in tears as soon as they saw each other at the Kaaba. They had been in touch over the phone, but Thursday was the first time they were meeting in-person.
"It is not clear why Hanifan couldn't get permission to visit Gurdwara Kartarpur Sahib. Earlier, two partition victims, brothers Sadiq Khan and Sikka Khan, had met at Gurdwara Kartarpur Sahib. Hanifan had also applied for a Pakistani visa to meet Hajra Bibi but her request was not granted by the Pakistan High Commission in India," said Dhillon.
Both families not being financially well-off, a second Sikh man from the US provided funds to arrange their visit to the Mecca. "Paul Singh Gill from the US arranged funds to make this reunion happen in Mecca. We were in a hurry to make this reunion happen as Hajra Bibi is already 105 years old," said Dhillon.