Dr Taslimarif Saiyed is director and CEO of the Bengaluru-based Centre for Cellular and Molecular Platforms (C-CAMP), an initiative supported by the central Department of Biotechnology. A PhD in neuroscience from Max-Planck Institute for Brain Research at the Goethe-Universität Frankfurt am Main in Germany, he worked as a postdoctoral scientist at the University of California, San Francisco, and was awarded the prestigious Parkinson's Disease Foundation fellowship.
Dr Saiyed spoke to indianexpress.com on C-CAMP's journey, the tech trends in the biotech space, C-CAMP startups that have had a significant impact, the challenges and opportunities for startups in the biotech space and the long gestation period that the startups face. Excerpts from the interview:

Venkatesh Kannaiah: Can you give an overview of the areas of innovation in your domain?
Dr Taslimarif Saiyed: Among the important areas of innovation in our domain is the field of antimicrobial resistance and we too have built a focused theme on it. While Covid death numbers globally ranged in the region of 2.5 million, the threat of antimicrobial resistance is much larger. Conservative estimates put it at a potential loss of 10 million lives annually. This is an issue which also has an India-specific angle and we have already catalysed around 40 innovations in this space.
There is clearly a large gap in the delivery of public health in rural and semi-urban areas and there are a lot of opportunities in this sector to be addressed by digital health. We have around 80 innovations in this space.
Maternal and child health is where we as a nation score very low and there is a need for dedicated innovative solutions in this space. We have around 10-15 ready-to-market innovations in this space. In the agriculture space, we have around 60-odd innovations. In the climate and sustainability arena, with its focus on controlling high carbon emissions, we have around 20-30 innovations from the biotech end of this spectrum.

Venkatesh Kannaiah: Can you tell us about a few startups that you have supported and you think will have a large social impact?
Dr Taslimarif Saiyed: Bugworks is one novel startup that has taken up work on antimicrobial resistance. Without effective antimicrobials, common infections can become life-threatening, and even routine treatments and minor surgery would not be possible, making medical intervention difficult. Serious bacterial infections occurring in hospitals and other healthcare settings often lead to sepsis and death without prompt treatment.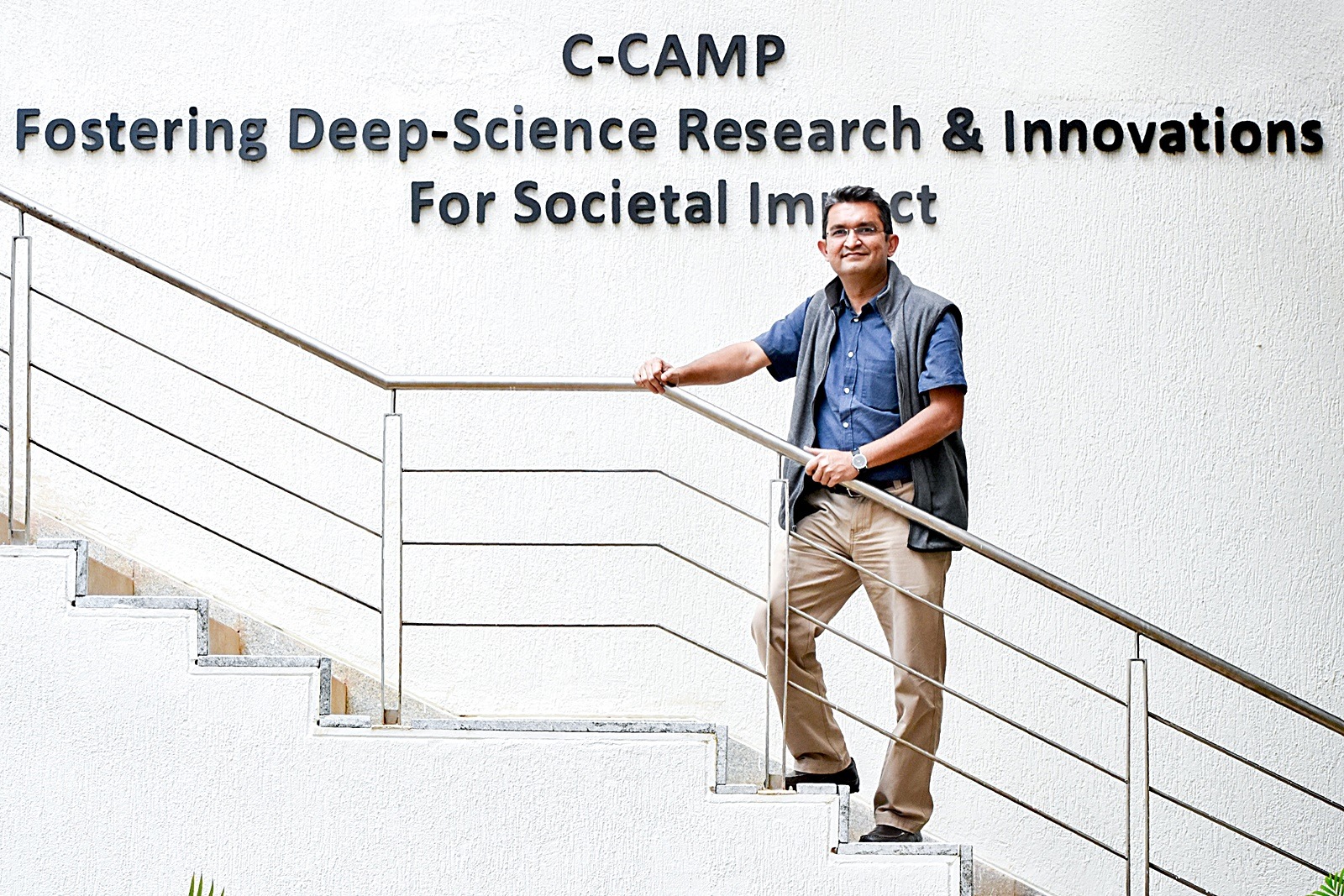 Dr Taslimarif Saiyed, director and CEO of Bengaluru-based Centre for Cellular and Molecular Platforms (C-CAMP). (Express photo by Jithendra M)
Bugworks is now working on the development of a new broad-spectrum antibiotic molecule aimed at treating serious infections caused by multidrug-resistant bacteria. It is now among the top companies in the world in this segment. It is in the middle of phase 1 trials, and when it succeeds after the completion of clinical trials, it will be an "aha" moment for biotech research in India.
StringBio is another startup supported by C-CAMP and is now funded to the tune of $25-30 million or more. It works on methane gas capture and is one of the first startups in Asia to use methane gas to produce proteins and the third such producer in the world. It also extracts methane from natural gas or biogas derived from animals or even food waste. The gas is utilised by microorganisms to produce the alternative protein in an organic way. Poultry and aquaculture are the two market sectors that String Bio is targeting for its protein output as agri- or animal feed.
Innaccel is into medical devices and one of its products addresses the issue of ventilator-associated pneumonia, a leading cause of mortality in the ICU, causing over 250,000 deaths each year in India.
As availability and skill levels of healthcare practitioners vary in developing countries, this innovation can help reduce the risk of acquiring lung infection as well as improve ICU efficiency by reducing the staff time needed for manual suctioning.
There is Saans, another interesting product developed in C-CAMP. In India a large number of births occur in hospitals without substantive equipment. There is a need for a non-invasive breathing support system for infants and children that can be used at these hospitals and this innovation needs to work with minimal infrastructure and skill requirements.
Sea6 Energy is another startup of interest developing renewable energy solutions to utilise the potential of the ocean to develop eco-friendly land alternatives. It wants to mechanise ocean farming with automated catamarans that simultaneously harvest and replant seaweed in the ocean. The company, which has raised $20 million in funding, is now currently using the seaweed harvested in the ocean to manufacture biostimulants and growth promoters for agricultural use. This has led to a rise in the production of farms by 30 to 50 per cent. It is also developing its own biodegradable film to replace plastic and paper bags.
Venkatesh Kannaiah: How is the startup ecosystem in your domain and what are the challenges and opportunities?
Dr Taslimarif Saiyed: It was Covid that put the focus back on healthcare and biotech startups, bringing about a new sense of urgency to the sector. It has also given the venture funds and investors a greater understanding of the challenges and the need for patient capital in the sector. There is certainly a long gestation period for the investments. There are regulatory challenges too when one is dealing with health per se.
You must also understand that there has been no bumper exits for the investor or venture capital industry from the biotech sector. This too could be acting as a dampener. Also the pathway for healthcare innovations are not streamlined. The mid-stage and late-stage productisation and regulatory approvals need to be built upon. It would take another five to 10 years of dedicated work for such things to get moving.
Despite such constraints Covid has brought about a change in attitude. There is what I would call a societal dialogue after Covid and a positive vibe in the sector.
Venkatesh Kannaiah: Can you throw some light on C-CAMP experience in incubation, acceleration and training?
Dr Taslimarif Saiyed: C-CAMP startups have filed more than 230 patents and we are collaborating with more than 450 organisations worldwide. More than 90 of our incubated startups have received follow-on funding to the tune of Rs 4,000 crore and the cumulative valuation of C-CAMP startups is about Rs 10,000 crore. We have about 85 healthcare and life science products in the market and have completed more than 5,000 research projects. It is quite an achievement.
Venkatesh Kannaiah: How do your tech platform services in C-Camp work?
Dr Taslimarif Saiyed: We provide these tech platforms to startups, academics and other biotech researchers. Some of the tech platforms we have built are used in next-gen genomics, advanced imaging facilities, genome engineering, protein tech, microfluidics and mass spectrometry.
Venkatesh Kannaiah: What is C-CAMP modelled after and how many startups make it big?
Dr Taslimarif Saiyed: We don't say that we are inspired by any particular organisation. However, we have similarities with QB3, a leading biotech innovation enabler in the US. The California Institute for Quantitative Biosciences does something similar to what we do, but on a much larger scale.
We have a cohort of 45-50 startups per year and so far we have supported around 380-odd startups. Around 30 per cent of these startups go in for follow-on funding. However, there would also be some failures. Around 10-15 per cent of the startups do not see the light of the day, but that is normal for any industry. Our work has been enabled by support from government agencies at the central and state levels as well as other funders. We are looking to build partnerships with national and international organisations interested in supporting innovative solutions in the sectors like healthcare, agriculture, animal health and environment.