In a significant development in the operation to rescue 41 workers trapped inside the under-construction Silkyara-Barkot tunnel, a six-inch pipe to supply essential commodities has successfully reached the men.
The pipe is 53 meters in length and preparations are being made to supply food to the trapped workers, officials said. National Highways and Infrastructure Development Corporation Limited Director Anshu Manish Khalkho and rescue operation in-charge Colonel Deepak Patil said efforts are now on to evacuate the men as safely and as quickly as possible.

"This is just the first breakthrough and only the food pipe is inside. The main job is to get our boys out using the 900 mm pipes. This is just one step, through which we can send them (better) food, mobile phones, chargers, and also talk to them. We have made a list after talking to doctors, and are preparing food based on their suggestions," said Patil.
"We are building a tray (to fit into the pipe) and have sent it to the NDRF for modification, and our fabricators are also working on it. We will use cylindrical plastic bottles with bigger mouths and fill food items in them. We will send bananas, apple slices, dalia, khichdi and more. We just want to make sure we send things which do not upset their stomach," he said.
Earlier in the day, Khalkho told the media that they had failed twice in installing the six-inch pipe because there was a rock they could not get through. On the rescue operation, he said that there will be vertical drills working in two different places as well as two horizontal drills to get the men out. "However, the tunnel on the Silkyara side is very fragile, and we are working with that in mind. The horizontal drilling by the American auger machine to get the workers out will start working after the six-inch pipe is to the other side," he said in the afternoon.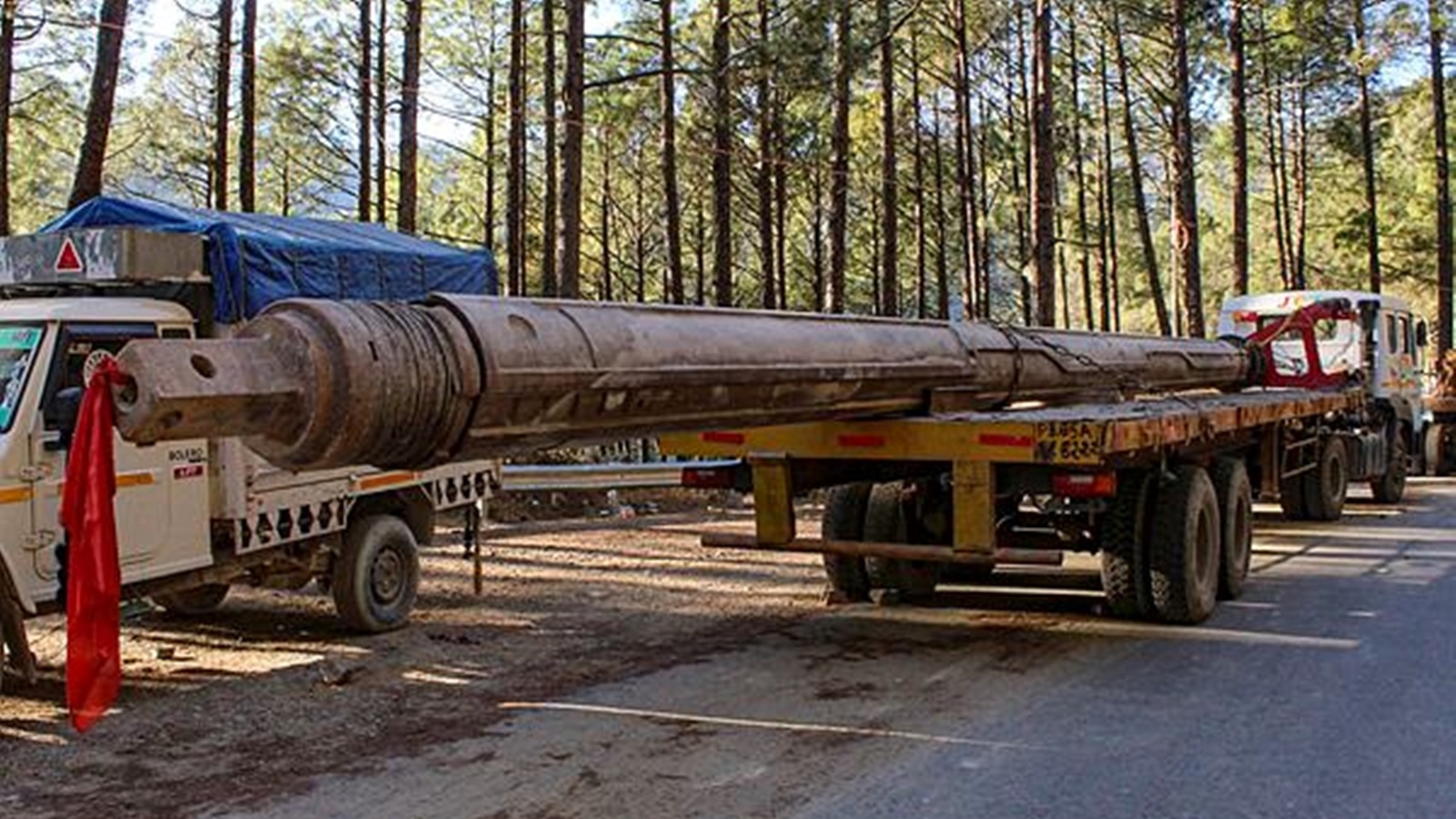 A high-performance drilling machine being brought for the rescue operation on Monday, Nov. 20, 2023. (PTI Photo)
He said that on Friday afternoon, there was a cracking sound that led to panic, and work was stopped for two days. The work started inside the tunnel after the Army prepared a box culvert to ensure the workers' safety.
"We called for some drones. The drones did initial recce yesterday but the photos were not clear. We then rectified the issues and tried again on Monday, but because of the dust the cameras were not able to see anything. The Defence Research and Development Organisation (DRDO) brought some robots, and they are doing some feasibility studies to see if the robots can cross the slippery surface. We are also bringing cameras used in endoscopy and will establish a visual connection through the six-inch pipe," said Khalkho.